Taiwanese Dumplings, a Family Recipe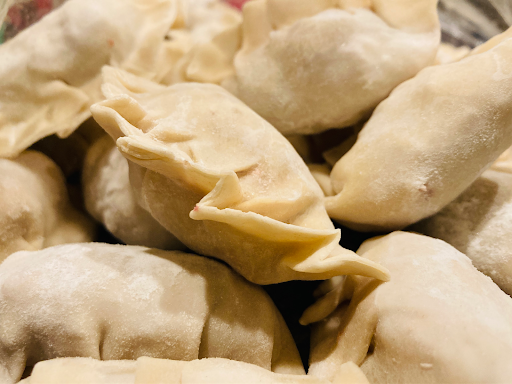 Ingredients:
1 head cabbage, finely chopped

1 lb. ground beef

1 egg white

1 tbsp. diced ginger

1/2 tbsp. sesame oil

1 ½ 8 oz. packages potsticker wrappers, or more as needed

1 tbsp. vegetable oil

1 package rice noodles (1.76 oz.), finely chopped

Salt and ground black pepper to taste
Instructions:
Cover pan with flour.

In a large bowl, place cabbage, beef, egg whites, ginger, rice noodles, and sesame oil. Mix with hands, seasoning with salt and pepper.

Take one wrapper and gently stretch it out on the edges. Use a small spoonful of the beef mixture and put in the middle of the wrapper. 

Dip a finger in the small bowl of water and wet the edges of the wrapper. Fold the edges of the wrapper together. Pinch and seal. Transfer the dumpling onto the baking sheet. Repeat for all dumplings (you can cook the dumplings right away or freeze for two hours and transfer to a freezer bag).

Put a medium pan on the stove and set to high heat. 

Add vegetable oil and allow to heat.

Place dumplings into the pan. Let cook until golden brown, turn over, and repeat.

Remove from the pan and let grease absorb on a paper towel.

Serve and enjoy!
These dumplings can be frozen for as long as 3 months before cooking.