Bed Bath & Bankrupt
After many attempts to stay alive, the retail giant will be shutting its doors after 52 years of business.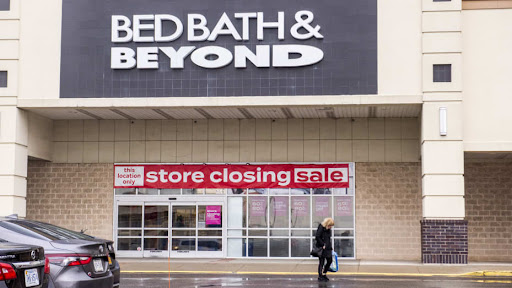 Bed Bath & Beyond has existed for over 50 years, selling a wide variety of household products such as bedding, bathroom items, cookware, home decor, and more. In recent years, however, the company has had many issues with money. Yahoo Finance says that Bed Bath & Beyond has had public money issues since January, when they revealed that they were unable to pay back the loans they had taken out years back. This issue along with others caused the company to file for chapter 11 bankruptcy protection.
In January of 2023, Bed Bath & Beyond began to shut down hundreds of locations across the country. This move was put in place to combat the company's rising debts. According to NBC News, the company closed over 400 locations before February of 2023, when another 150 locations were planned to be demolished or sold. At the same time, Bed Bath & Beyond struck a massive deal with investors worth over a billion dollars to keep the company afloat. Unfortunately, these efforts proved to be less useful by the month as the company lost money at a rapid rate. Bed Bath & Beyond's stock price plummeted as investors began to worry.
Despite all their efforts, Bed Bath & Beyond was unable to stay alive for much longer. The company filed for chapter 11 bankruptcy on Sunday, April 22, 2023, months after the billion dollar investment. The New York Times reports that in part of their bankruptcy filing, Bed Bath & Beyond is going to close all 360 of its remaining locations and all 120 Buy Buy Baby locations, one of Bed Bath & Beyond's companies. The company stopped accepting its well known coupons Wednesday, April 26, and it will stop accepting gift cards on Monday, May 8. This is another major example of large retailers filing for bankruptcy after prior success. A large reason for companies like Toys "R" Us and Sears going bankrupt along with Bed Bath & Beyond is the lack of online growth. Retailers like Target and Walmart who invested in e-commerce grew, while those who focused on the in-store experience have started to disappear.
While Bed Bath & Beyond may no longer be occupying these retail spaces, other growing brands will. CNN Business states growing companies, such as Burlington, Five Below, Dollar Tree, Dollar General, Family Dollar, and Planet Fitness have been known to snatch up Bed Bath & Beyond locations that have shut down. Other retailers like TJ Maxx, Home Goods, and Ross have also taken old locations. The fall of Bed Bath & Beyond has been sad for many loyal shoppers, and acts as an example to what happens when companies refuse to bet on e-commerce. Bed Bath & Beyond will go down in history as yet another successful retailer that ended in bankruptcy.