Gearing Up for Spring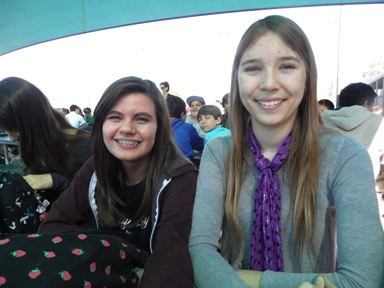 As winter sports come to a close, spring athletes are just warming up for their season. Any athletes interested in spring sports attended tryouts this past week on Tuesday, Feb. 18 and Wednesday, Feb. 19. The middle school spring sports include Girls' Basketball, Boys' Basketball, and Spiritline. At the tryouts the students abilities, experience, and strategy were tested to see if they qualified for the team.
Eighth grader Emily Bukoski tried out for Spiritline: "I've never participated in a cheer team before, so I was a little nervous." Bukoski says that she is very excited to participate in a Horizon Honors sport, in addition to her previous experience on the Horizon Honors Volleyball team. "I am excited to work on a team, and make new friends," she shared.
According to the Horizon Honors Athletic Handbook, the objective of the athletic program is to inspire a sense of loyalty, sportsmanship, leadership, and to teach students responsibility. "Participating in basketball will let me show school spirit," says Skylar Kemper, an eighth grader who made the Girls' Basketball team. Horizon Honors sports also encourage a hard work ethic, both for the sport and for schoolwork.
Both basketball teams are looking forward to a great start, and Spiritline is gearing up to cheer them on. "I'm excited to play at the games, and fight for my team," says Kemper.