The Eagles Face-Off Against Skyline
March 4, 2014 marked the first official game of the boys' volleyball season. The Eagles played away against Skyline High School. The Boys' Varsity started the first game off with a bang, with each school trading off the lead. As the points racked up and with each team neck and neck, Skyline took the lead and won the first game 25-19.
The beginning of the second match looked promising for the Eagles, as they took the lead. Skyline quickly picked up the game and with quite a few solid hits, got the lead back. As the game continued each team was giving it their all, with Junior Tony Salatino getting all the deep serves and hits and Junior Patrick McPherson was more than happy to return some amazingly placed hits to Skyline. The end of the game resulted with a 25-22 loss for Horizon Honors.
At the beginning of the third, the Eagles seemed to carry a heavy-heart. Eventually Skyline, once again, took the lead with a huge gap. But after another killer hit by McPherson, they quickly closed the gap and took the lead. Soon the Eagles seemed to be rejuvenated and played like a completely different team. Skyline began to make some fatal blunders and the Eagles did not slow down. 25-21 was the final score and a fourth game began.
The Eagles were more than ready to continue playing a hard game, but so was Skyline. With both teams defending their victories, each serve, pass, and hit were perfectly timed and placed. Skyline's plays were more practiced and ended the game with a 25-12 win to Skyline ending the match and giving them the victory.
Tuesday, March 11, 2014 there will be an away game at Alta Vista High School in Tucson, Arizona. The game begins at 3:30pm and is Varsity only.
Leave a Comment
About the Writer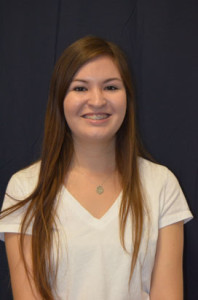 Carter Robinson, Sports Editor
Carter is a senior at Horizon Honors and has been attending the school for 14 years. She is currently in her second year of journalism and is the Sports Editor. Originally joining the class with the hope of getting more writing experience and one day pursuing a career in journalism. She is not involved with any sports or clubs at the school, but she does volunteer at her Church. After high school she plans on attending Northern Arizona University.

In her free time she enjoys reading and watching television, she also likes shopping and spending time with her family. Her favorite television show is The Walking Dead. She loves animals and hopes that her future career will have some connection to an organization that works to help and protect endangered species. As of now she plans on majoring in Business and Marketing, but that might change once she attends college.  Carter is excited to be a senior and is looking forward to graduating.