Lady Eagles Show HH Values on Court
At a home game against rival Valley Christian, Horizon Honors' JV girls' team showed what it meant to be an Eagle. Even when the going got tough, the ladies exhibited teamwork, leadership, and admirable sportsmanship.
Horizon Honors' JV Girls Basketball was in it to win it against Valley Christian on Tuesday, January 27,at 3 p.m., and intensity was high from both teams. In the first quarter, freshman Kenzie Knippers took a charge, but fell short. After two quick rebounds from sophomore Lauren Roberts, sophomore Camryn Lopez capitalized for the basket. However, Valley continued to keep the pressure on the Lady Eagles and closed the quarter with a 15-point lead.
Horizon Honors' girls began the second quarter with a successful drive by freshman Addie Martin.  Lopez had some notable defense and worked hard for rebounds, finally landing a basket. With less than a minute to go in the second, Martin was fouled and brought the points to 5.  Valley had answers for every move by the girls, bringing the halftime score to 5-41.
In the third, the ladies worked tirelessly to rebound, drive, and defend, and the perseverance paid off for Knippers who scored the only two Eagle points in the quarter.  But pressure was in full swing, and Valley meant business, closing the quarter with a lead of 51 points.
The final quarter was more of the same, but this is where the hearts of Horizon Horizon really showed.  The girls did not give up, and neither did the fans.  Every move was supported by applause, shouts, and even chants.  Although the final score was 7-71, the Lady Eagles should be applauded for their incredible sportsmanship and teamwork. When asked to reflect on the final score, Knippers explained, "[It] doesn't matter what the scoreboard says, we are all winners in our hearts!"
Leave a Comment
About the Writer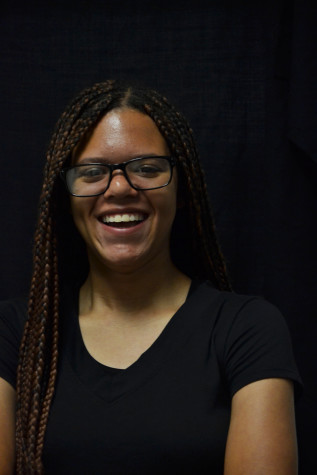 Arlayna Schooley, Editor of Features & Extras/Arts & Entertainment
Arlayna Schooley is a junior, attending her third year at Horizon Honors and in its journalism program. For the past three years, Arlayna's love for journalism has continued to grow since her first day in freshman year. Starting out as a columnist and then becoming an editor, she is excited to be this year's Editor of Features and Extras and Arts and Entertainment; she hopes to add new and exciting ideas to this section through her outgoing and creative perspective. Her goal this year is to better herself in both her writing and editing and to be the best that she can be. Schooley is also a member of the photo team and absolutely loves it; her favorite part of being a photographer is getting to take cool photos around campus.
If you couldn't already tell Arlayna loves to be an active student, both  on and off campus. She participates in many of Horizon Honors' clubs, including Key Club, Pre-Med Club, Wilderness 
Club, and Video Club. Schooley's favorite sports here at Horizon Honors are soccer, basketball and softball; in her free time, she enjoys playing sports, watching movies, and being a complete goof with her friends and family. Her favorite two movie series are "High School Musical" and "Harry Potter," both of which she can recite almost every line from. She is completely easy-going and easy to talk to; once you meet her, it's like you've known her forever.