Flying Away with the Albuquerque Balloon Fiesta
The 43nd annual hot-air balloon fiesta in Albuquerque, N.M., features music, fun, and – of course – hot air balloons.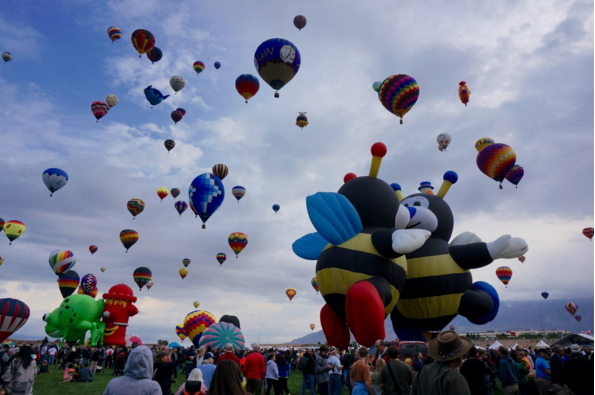 Since the first Balloon Fiesta in 1972, almost 750,000 visitors of all ages come every year to Albuquerque, N.M., to experience the amazing balloon fiesta. The area is known for a phenomenon called "the Albuquerque Box," which features a crystal sky and perfect climate in October, making the time of the event perfect. Sponsors offered free rides in the balloons from Oct. 3 to 11 and other days of the year if planned ahead for a fee.
When giving green light for the weather, hundreds of balloons are lift off into the air in all shapes and sizes. Every pilot has a chase-crew, which helps getting the balloons in the air, chases them down after landing, and packs up all the materials after use; so everything's set for the next day's take off. In the evening, there is Balloon Glow, where tethered balloons of every color, shape, and size glow against the dark sky.
Media covers the whole event, and it's mainly media riding in the balloons with a pilot, capturing breath-taking shots from above. The media represents 50 nations and has in total over 57 million viewers.
As for my experience, I was able to be in a chase crew and help with the balloon getting into the air. I also was there at night listening to music while the giant balloons on the ground lit up all at once. The whole festival was a very beautiful and worthwhile experience.