Bids for Kids: Horizon's Online Auction to Benefit its Digital Excellence Campaign
Horizon Honors is nearing the end of its second Bids for Kids event though it has had exciting results thus far. Its goal of raising $14,000 has been surpassed, and Horizon Honors is well on its way to providing new technology for the school.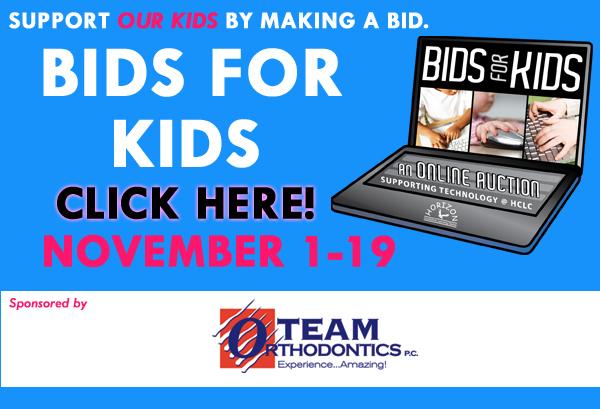 What began in 2007 as a Horizon Honors golf tournament grew into the Eagle Day fundraiser, and has since transformed into the online auction, Bids for Kids. The auction has already raised more than $20,000 towards Horizon Honors' "digital excellence campaign," and there are six days and 159 items remaining. The goal of the campaign is to provide technology throughout the entire campus including Chromebooks, projectors, and mobile teaching stations.
In 2008, a parent fundraising advisory group was formed. "They conducted surveys and found that only 18% of parents are golfers, and only 11% of parents wanted to participate in fundraisers outside of school," said Mona Volden, volunteer coordinator at Horizon Honors.
With this new information, the group decided to embark on a new fundraising method that would involve the entire Horizon Honors community. Most families felt that they were too busy to come to a fundraising event after school hours or on weekends, thus the online auction was born.
"Bids for Kids allows everyone to participate without buying a ticket," states Volden. Not only can families involve themselves by bidding in the auctions, they are able to donate any new item they wish.
During fourth quarter of the 2012-2013 school year, there were a number of contests to support the Bids for Kids Auction. "KidsAide" was a competition where each grade competed to donate the largest number of items for a prize, "StaffAide" allowed staff members to donate items, and a "LemonAide" committee of parent volunteers worked to collect donations for the cause. Along with Horizon Honors families, the school also reaches out to vendors such as museums, professional teams, and local restaurants.
"It takes a village. That's kind of our unpublished motto as volunteers, and it's true because none of this would be possible without the hard work of everyone involved," said Volden.
The event goal for 2013-14 was $14,000, but the goal has long been surpassed. For an up-to-date number on the amount raised or to place a bid on an item, please visit http://www.biddingforgood.com/auction/AuctionHome.action?vhost=hclc.