Jurassic Park Review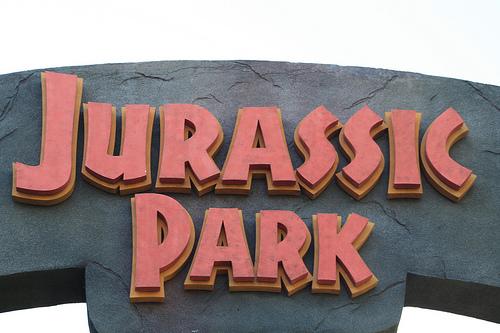 Michael Crichton's novel, Jurassic Park, provides an interesting perspective about the human need to push boundaries. In the novel, Mr. Hammond is an eccentric and imaginative billionaire who has spent the past five years working on creating a park filled with dinosaurs; Jurassic Park cost much of Hammond's fortune, but once he found the right scientists and archeologists, the theme park became a reality. A year before the grand opening, a small group is welcome to tour the park and give Hammond the green light. This group includes Alan Grant, Ellie Sattler, Donald Gennaro, and Ian Malcolm. Hammond also invites his two grand kids, Lex and Tim. When they arrive at the park, it seems like everything that could possibly go wrong, does.
The novel follows the story lines of all the different characters, offering a new narrative view in each chapter and helping to fill in the gaps of information left by other character's points of view. Personally, Ian Malcolm's point of view is my favorite simply because of the interesting points he makes about how nothing in nature can be predicted or controlled. Malcolm is a mathematician, specializing in the Chaos Theory which states that nothing is predictable. Between Malcolm's theory and Hammond's beliefs, an interesting parallel is drawn between what is right and wrong. Is it right that Hammond is trying to create and control an unstable environment, not for financial gain, but for his love of dinosaurs?
After reading the book I was left with a realization that it is human nature to try and push the limits, whether it's in the sciences, medicine, or sports. Jurassic Park is the perfect example of how one man attempts to create the impossible. The book left me mesmerized and the ideas it produced definitely made it one of my favorite reads.
Leave a Comment