Making Art with Thread- Introduction to Embroidery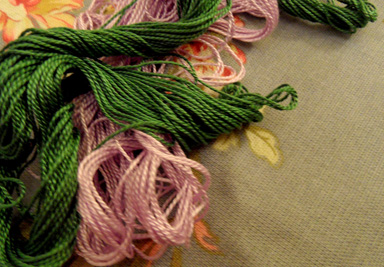 Embroidery appears to be intricate, but can be very simple once you know the basic stitches. This tutorial will teach you a few of the easiest and most common stitches, and how to use an embroidery hoop.
Working with an Embroidery Hoop- Embroidery hoops are not necessary, but make stitching a whole lot easier. They keep the fabric taut while you work, and prevent the fabric from bunching. Different sizes of hoops can be used; you will want to choose what size to use depending on the project you are making. For practice any size hoop will work. Plastic hoops are preferable because wooden hoops tend to splinter or crack.
An embroidery hoop comes with two parts: a top and a bottom. You can tell them apart easily because the top has a screw used to tighten the hoop, and the bottom has none. In case you're still confused, here is a picture: the top of the hoop is on the left, and the bottom is on the right.
To put your fabric on the hoop, simply center the fabric above the bottom hoop. Then, push the top hoop down onto it. Screw the metal cinch down until the hoop is tight. Gently pull out any wrinkles.
Now you're ready to try out some stitches.
Stitches- Find a needle with a very large eye- embroidery floss is thick and hard to thread. Thread your needle and pull the threads until they are even, tying them with a knot. This will double the thickness of your stitch.
Split Stitch- push the needle through the fabric where you would normally end your stitch, and insert it again where you would begin a stitch. Now, push the needle through the stitch you just made, splitting the thread in half.
Chain Stitch- Create a small loop using your thread by not completely pulling it through the fabric. Begin another loop at the end of that one, preventing the first loop from pulling out. Continue, and you will begin to see the chain form.
Satin Stitch- Satin stitch is perfect for filling in flowers or leaves, and is really the simplest stitch. You simply make stitches close together as if you are filling in a space.
Now that you've mastered the basic stitches of embroidery, creating masterpieces will be a breeze. Many harder embroidery stitches involve these stitches, so knowing these will help you master them later.