Are You Craving Something Sweet and Simple?
Below are two delectable quick and easy treats, sweet drinks and cookies, to make this summer delicious that both include strawberries.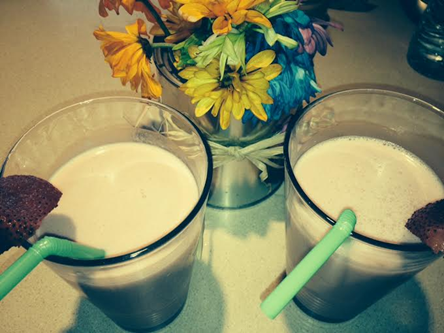 Making these sweet and simple strawberry smoothies with a family member or friend will make your summer as cool as can be.  These mouthwatering drinks are perfect to have during a day of relaxation by the pool.
STRAWBERRY COOLERS
Start to Finish: 12 minutes
Servings: 2 smoothies
Ingredients:
8 fresh strawberries (with the top part cut off)
½ cup 2% milk
1 cup plain/vanilla yogurt
3 tablespoons white/granulated sugar
2 teaspoons vanilla extract
6 ice cubes
Directions: Blend the strawberries, milk, yogurt, and sugar in a blender.  Then put the ice in and blend the smoothie until it looks smooth and creamy.  Pour into two different glasses, add in a straw, and enjoy!  If you desire, you can put a half of a strawberry on the side of glass(es) for a unique look.
If you are wanting to make something sweet, but easy, you have come to the right place.  This delightful recipe only takes three ingredients, and you will surely enjoy making these treats with your family and friends over the warm summer.
SUMMER DELIGHTS
Start to Finish: about 12 min.
Servings: 2
Ingredients:
4 fresh strawberries (with the top part cut off)
8 regular Nilla Wafer cookies
8 half spoonfuls of Cool Whip
Directions: Cut each strawberry equally in half on a cutting board.  Take a half spoonful of Cool Whip and spread it all around on top of a cookie.  Repeat this step until all of the cookies are topped with Cool Whip.  The Cool Whip melts fast so do this step quickly.  Put a half of a strawberry on each cookie.  Press the strawberries down, but not too much, because the Cool Whip will spill over.  Place the cookies in the refrigerator to let the Cool Whip sit.  Take out after about five minutes, and enjoy!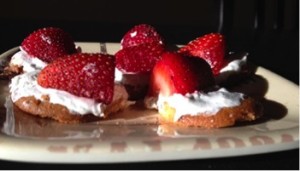 These cookies are not only sugary treats, but they are lots of fun to make! Photo courtesy of Maggie Kenzler.