Golden Examples From The Golden Globes
Take a hint from the stars of the red carpet for this homecoming season.
It's no secret that awards season is the best time of year to find fashion inspiration, and this year's Golden Globe Awards were no exception. Luckily for Horizon Honors, Homecoming comes right smack dab in the middle of that magical time for fashion. Let's not let this golden opportunity go to waste.
Emma Stone (in Lanvin):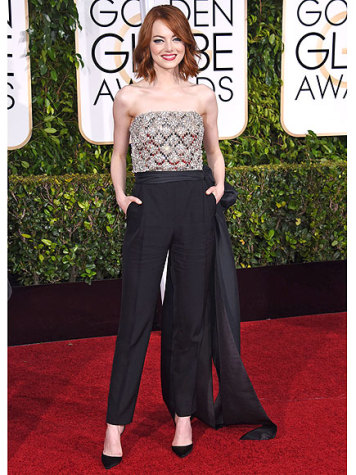 The flame-haired starlet never disappoints on the appropriately-matching red carpet, but this Golden Globes-worthy playsuit is one for the ages. Not only does she know her way around a fabulous gown, Stone has proven that she can even rock a playsuit on the red carpet. Granted, she did have expert assistance from Lanvin, but the juxtaposition of sparkly and matte fabrics and larger-than-life bows demand attention.
Tina Fey (in Antonio Berardi):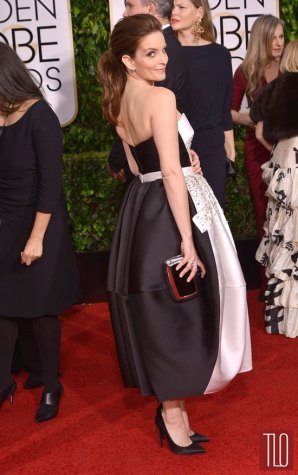 Co-hosting the first major awards show of the season is no simple feat, but comedy-legend Fey didn't let her non-stop life show. The ultra-flattering bubble effect of the gown hits her ankles perfectly. Fey isn't eaten alive by the dress because of the balance it provides for her body. The contrast of the full skirt works with her smaller bust to make everything look like it fits just right.
Kate Hudson (in Versace):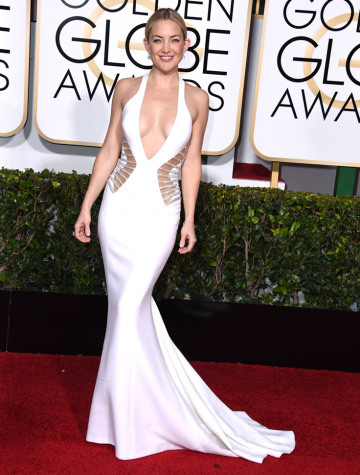 A body like Hudson's shouldn't hide behind demi-conservative lace panels or flesh-colored inserts, it should be dressed exactly as it was, as if painted by the spectacular hand of Versace. While our formal-event dress code does not allow for such plunging necklines or so many cutouts, those elements can still be channeled in a more school-appropriate manner. Hudson also demonstrates that wearing white in winter with pale skin isn't a sin, but rather almost angelic and dream-like.
Amy Adams (in Versace):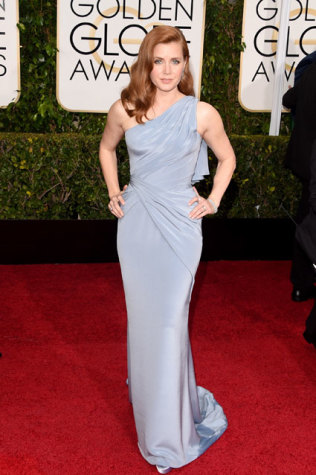 Right off the bat, you would assume that ginger-bombshell Adams would arrive in a jade, crimson, golden, or plum getup. But let me tell you, her robin's egg, blue-lilac was an impossibly good surprise. Adams gives us a lesson in abandoning predisposed ideas of hair and eye color and their relationship with your dress. While these complementary principles should not be ignored entirely, they can be bent when appropriate. Experimentation is always in style.
Taylor Schilling (in Ralph Lauren):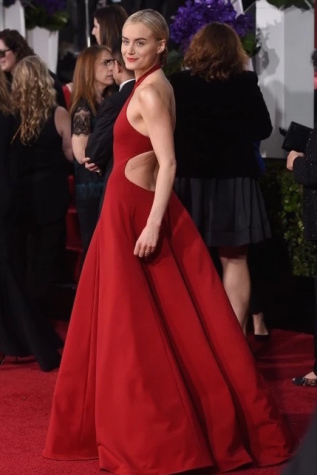 Orange is definitely not the new black in Schilling's case. This unmistakably Ralph Lauren-wonder shows off Schilling's beauty in all the right places. The blossom-like skirt offers drama that supplements the muted makeup and hair. The front keyhole cutout and the back oval cutout balance one another and are a breath of fresh air to the straight up-and-down, no-nonsense ball gown.
Honorable mentions: Jamie Dornan (in Louis Vuitton), Eddie Redmayne (in Gucci), Felicity Jones (in Dior), Julia Goldani Telles (in Carmen Marc Valvo), and Jenna Dewan Tatum (in Carolina Herrera).