The Second Cheer Season Is Chilling to Watch
Season two of the Netflix show "Cheer" was recently released and there are mixed opinions on the season's content.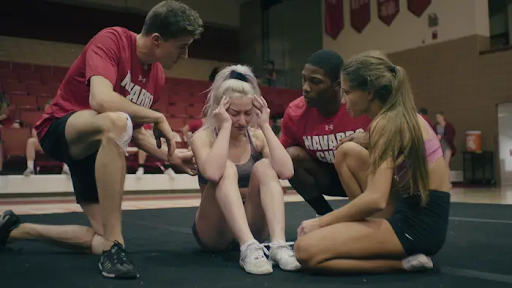 "Cheer" is a show about two rival teams who compete at Daytona, a national cheerleading competition where Navarro College goes head to head with their rival, Trinity Valley College. The series shows the practice days leading up to Daytona and the strength and backgrounds of the team. The producers went into vast detail about topics the team members experienced. Season one showed this as well, but not as deep or as much as the most recent season. Season two shows more of the effort and stress of the sport, the days leading up to Daytona, and the tension between teammates and coaches.
This season showed backgrounds of some of the team's past lives. In season one, Morgan Simianer was forced to live in a camper by her dad. This season, the trauma these teens and adults hide behind a smile every day is unwrapped. Maddy Brum was lied to by her mom, explaining how her dad was on a work trip for years when it didn't add up. Brum looked it up and found out the hard way that her dad was in jail. The first couple of episodes covered La'darius Marshall's family and how he was treated and even watched his mom being taken to prison in front of his eyes. Gillian Rupert's parents were not spoken of, but another teammate, Cassadee Dunlap's parents, took Rupert under their wings, providing her with a house and family.
Season two's episode titled "Jerry" broke many team members, coaches, and fans' hearts when finding out the news that Jerry Harris was sentenced for 15 years in prison. Everyone enjoyed his famous "mat-talk" but he ended up in an awful place when COVID hit. The news devastated many and was extremely hard to take in because Harris seemed like such an amazing person.
Conflict between teammates and coaches was extremely common this season, showing the true sides of this competitive sport. When Monica Aldama went to perform on "Dancing with the Stars," the Cheer team had a different coach for the time being. Kayli Mills was the coach who took over, however not a lot of the team liked her as much as they liked Monica. Despite the hatred towards Mills, Marshall needed Mills to take care of his dog. However, Mills thought that meant she could keep the dog. Mills changed the name and made it her own, but when Marshall came back and found out the news, he wanted to throw hands. He banged on Mills' door and threatened her because she wouldn't give his dog back and that she changed the name. Marshall had some other blowouts with Aldama as well, he had an attitude to many teammates, and when Aldama threatened to take him off the mat, he explained he would change his actions for the better. Another teammate, Brum, was kicked out of the stunt to see how other girls would work in her place. Brum was upset and thought she wasn't doing well and ran away crying. The season got to show all the dedication and determination the team has in positive and negative ways.
Just like season one, there were breathtaking stunts that also brought horrible injuries. Brum fell out of one of her stunts when no one was there to catch her. She fell hard on the ground and got severely injured. Many of the girls suffer head injuries, such as concussions, and they also fail a lot during the practices leading up to Daytona. Jada Wooten also fell out of her stunt and cried in pain. The new season shows many of the injuries happening in front of your face, which makes it extremely hard to watch. 
The team members battled with hate comments and threats, such as released phone numbers, explicit photos, and addresses. Gabi Butler received death threats and hate for starting her own brand. Although she gets many good comments, she doesn't focus on those. Butler only focuses on the bad. Lexi Brumback was threatened and told on multiple occasions that she wasn't good enough to be on the team. 
Season two made many viewers uncomfortable; however, the show is number one on the Netflix charts and shows the true side to a sport that seems effortless and enjoyable.