Western Wildfire Worries
As wildfires combine in New Mexico, demolishing every building in sight, and new fires spread throughout Arizona and Nebraska, firefighters have their hands full.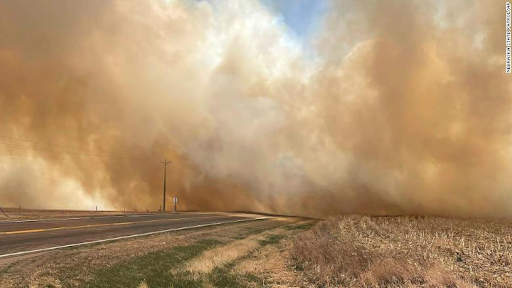 Two large fires in New Mexico, named the Calf Canyon and Hermit's Peak Fires, recently combined as they consumed every building in their way, says CNN. Firefighters have only contained 12% of the vast fire. It's one of many fires burning in the West with others burning in Arizona and Nebraska.
According to CNN, as the West suffers from extreme drought, wildfires have been becoming more common, with firefighters risking their lives fighting the massive flames that have killed one person so far. In Nebraska, a 66-year-old man was driving home when the smoke from the Road 702 fire made the air hard to breathe; he ended up passing away while driving. The fires are extremely dangerous and are already destroying homes, businesses, and other buildings. Thankfully, in New Mexico, some rain is expected soon, which will help. However, the next day, the weather will be extremely windy, which won't help contain the fire. Firefighters are slowly gaining more resources, but for now the fire is way too massive for people to control.
In Arizona, the Tunnel Fire has taken up 21,000 acres of land and evacuation notices were finally lifted on April 25th. The fire started on April 17 in Flagstaff and more than two dozen buildings were engulfed in the flames. Ernst, who was evacuated from her home, explains, "It's unbelievable, you know? We still feel like this is a dream, a bad dream. All your efforts, all your sacrifices, just there, you know, in ashes … There's no word to describe the pain." Many residents are returning home to see the destruction of their homes and lives. In Nebraska, the Road 702 Fire burned more than 50,000 acres of land. Evacuation orders have been lifted, though the wildfire has not been fully contained.
As many homes, businesses, and lives are destroyed from the vast flames, families are left devastated from the drought in the West causing the flames. Hopefully the fires will be contained before more flames unfold.