More Than Meets the Eye (Literally)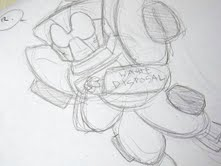 When you hear the word "Transformers," what usually comes to mind is giant robots with very big and very dangerous guns.  You might think of Michael Bay, Megan Fox, or Shia LaBeouf later, but the first thought would probably be Optimus Prime or Megatron.
And that's fine.  But being so consumed with the thoughts of the Michael Bay film might distract from the many, many alternate universes, or of the diverse comic books.
I think of the comic books, namely the series More Than Meets the Eye.  And it stays true to its name by being more than meets the eye and surprising you on every page.  This continuation is filled with more twists and turns than a Stephen Hunter book (not that I've ever read one).
Comic books can be viewed as "childish" because they don't have the same plot levels as novels, but this one would have to be viewed as an exception.  It's a challenge to comprehend, but is as engaging as any book in the Hunger Games Trilogy.
Using a disparate cast of robots who vary from a friendly but friendless bar owner, to a psychologist who nobody remembers, to a supreme neat freak and sentinel of semicolons, the story will make you cry.  I did.  Actually, I never cry about books, but I felt sad.  The characters have their trials and tribulations, and James Roberts does an excellent job writing.
The books will also make you laugh, unless you have absolutely no sense of humor.  The character Swerve is the funnyman, excuse me, funnybot, of the crew, and it's a delightful experience to watch the group riff off each other.  I'm actually very jealous of their well-timed wit.
The story, while including humorous setups, also includes a story.  The readers follow the journey of the Lost Light and its crew as they travel to find the legendary Knights of Cybertron, which may or may not exist.  They face lies, a secret cargo, and the dangers of themselves.
I never would have thought that I would come to love this series like I do.  It's a great read for sophisticated teenagers, filled with after-war effects and bursting with plot-twists.  But don't think too hard on the ending.  Anything could happen.