The Kissing Booth 3: Was This Necessary?
What makes The Kissing Booth 3 so bad?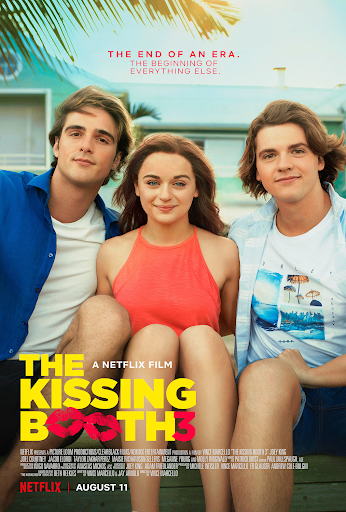 Matlyn McShane, Columnist
January 11, 2022
The Kissing Booth is a Netflix original that came out on May 11, 2018, starring actress Joey King. It follows Elle Evans, a high school student about to graduate. The movie was a hit on Netflix when it came out, but ended up getting 15% on Rotten Tomatoes. Netflix went on to make a sequel, called The Kissing Booth 2. This one got the best reviews out of all the movies, with a 27% on Rotten Tomatoes. The third and final one came out on August 11, 2021. This one seemed very unnecessary, considering that the second movie didn't end on a cliffhanger. At this point, it was pretty clear that Netflix just made it for money,  since the writers were adding on unnecessary plot points that didn't make sense.
The Kissing Booth 3 is about Elle, who's best friends with Lee. This is their last summer as high schoolers, because they're going to start college. Elle is torn between Harvard and Berkeley. She and Lee have promised each other that they would always go to the same school, but Elle is hesitant to tell Lee that she might go to Harvard to be with her boyfriend, Noah (Lee and Noah are conveniently brothers, which is what the first movie was  centered around).
Confused, Elle applies to both Harvard and Berkeley. Even though the acceptance rate for Berkeley is only 17%, and Harvard 5%, she somehow gets into both (even though throughout the course of the three movies we never see her doing any schoolwork). She eventually tells Lee that she got accepted into Berkeley and Harvard,  then leading him to get mad because she never told him that she applied to Harvard. 
The rest of the movie centers around Lee and Elle's summer bucket list, consisting of things they wanted to do together before they went to college. Throughout all of this, Marco, who caused some drama in the second movie, is getting in the way of Elle and Noah. He has feelings for Elle, even though he knows that she's dating Noah. Between that and Elle trying to decide on a school to go to, it makes her summer more stressful than fun. 
While the movie was entertaining to watch, the story seemed to drag on and it seemed almost as if the writer ran out of ideas. The dramatization of almost everything made it a lot worse, and the characters had no redeeming qualities. The only person who had even a little bit of character development was Noah, who had been trying throughout the series to be less violent. The movie also had side characters who didn't really need to be there. For instance, in the Kissing Booth 2, there's two characters who are gay who weren't even there in the first movie. It's clear that the writers just put that in so the movie would have some more diversity.
Although the movie does take a lot of unneeded turns that made it longer, it wasn't totally insufferable to watch. The characters' problems were, at times, relatable, such as Elle having to choose between her best friend and her boyfriend. In the end, though the plot wasn't great, it was an entertaining movie.