History Behind Victoria Secret's Angels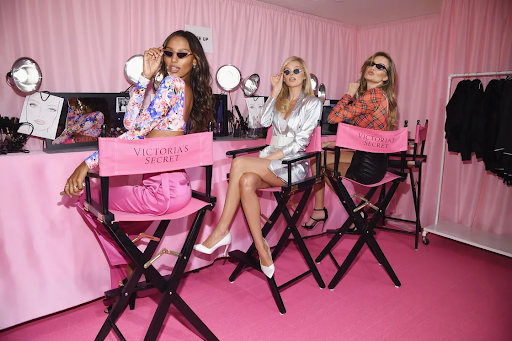 Victoria's Secret is one of, if not the most specialty retailer of athletic and lounge wear, accessories, fragrances, women's lingeries, and body care products. They are on a mission to bring inspiration, comfort, joy, and confidence to women all around the world, says VictoriasSecretandCo.
The initial intention of Victoria's Secret was to target and attract men instead of women to provide a place where they could buy hot underwear for their girlfriends and wives, but without feeling uncomfortable, states TheGuardian. Ed Razek morphed the company into his version of what he thought "sexy" looked like. The whole point of the Angels was to attract men to watch shows and give Victoria's Secret the attention Razek wanted. This attention that was attracted turned into something very negative for the Angels, though.
The Angels were sexually harassed and bullied for their appearance for years. Many models were given their jobs because they fit into the requirements, but some online bullies said otherwise. Anonymous accounts made hateful comments towards these models, and some have even gone to Victoria's Secret fashion shows and have gone up on the catwalk. "Catwalk crashers" have been targeting these models and getting the wrong attention. They have pushed the Angels and held signs up to the cameras saying, "We are all fashion victims," or have dressed as fake Victoria Secret models, says People. Another source, TheGuardian, states that the awakening of controversy and lack of sales surround the show's absence of diversity. During an interview with Vogue, Razek defended the brand's decision of not featuring transgender or plus-sized models that are just as beautiful as the last Angels, Vox stated. He later apologized for his words in the interview but still received major backlash for his original statements. Razek maintains his stance that he respects size and diversity inclusion, but can not keep up with the people's demanded comments.
Yahoo states that Jazmine Moreno said in an interview that she would examine her body during her lunch breaks instead of eating, and watch models catwalk across stages in bras and thongs made with Swarovski crystals. She questioned and tortured herself asking why she didn't look like a Victoria's Secret Angel. Shiny hair, big breasts, flat stomachs, protruding collarbones, long and tanned legs, are all part of the ideal image to Razek.
One after another, women almost half naked with each a perfect mixture of curvy and skinny were dressed in heavy angel wings being gazed at by men, says TheGuardian. Well-known people have attended these Victoria Secret shows like former President, Donald Trump. He was a frequent guest at these shows, as the whole point was to attract men to watch these "sexy" angels. Lingerie brands Aerie, ThirdLove, and Lively, would aim for young women to promote opposed airbrushing and body diversity. They touted lingerie as empowering, but it wasn't felt that way, stated by TheGuardian. Not to say that lingerie didn't hold a sexual charge to these angels from Victoria's Secret, but the charge was felt to be tawdry and mandated.
Victoria's Secret Fashion Company has canceled all shows and angels, based on past controversies. Women should not feel like objects while feeling good about themselves in lingerie, or being targeted for men's attention. The body type fantasized by Ed Razek has caused eating disorders in children, thinking that the only body type they should have is thin.