Records Broken at the U.S. Open
Many outstanding meet records were broken at the Toyota U.S. Open Swimming Championships.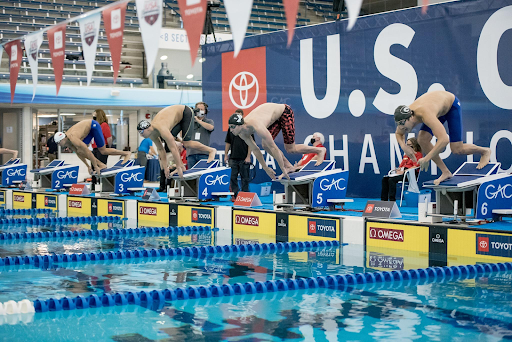 The Greensboro Aquatic Center in Greensboro, North Carolina hosted the 2022 Toyota U.S. Open, a major swimming competition that lasted from Nov. 30 to Dec. 3, 2022. USA Swimming recently released the qualifying criteria (as well as the dates) for the 2024 U.S. Olympic Swimming Trials, making the Toyota U.S. Open a fantastic and crucial opportunity to qualify. Well-known athletes who had amazing swims shattered six meet records at this event.
Women's 400 Meter Freestyle
Katie Ledecky, a very well-known swimmer, broke the 400 meter freestyle meet record, with a 3:59.71. Ledecky is known for setting records, particularly in long-distance freestyle. Her best time of 3:56.46, is just 0.06 seconds behind the world record, which was set earlier this year by Ariarne Titmus. Ledecky was racing next to 16-year-old Summer McIntosh, and with an extremely close race, she out touched her by 0.08 seconds, proving her stroke as strong and consistent throughout the whole race. Ledecky broke the previous meet record of 4:00.51 by 0.8 tenths.
Men's 200 Meter IM
Chase Kalisz, broke the 200-meter individual medley (IM) meet record, getting a 1:56.52. To continue his training under Bob Bowman's guidance, he recently moved to Arizona. He has a fantastic time of 1:55.40. Kalisz had a fantastic swim, getting off to a quick start with the butterfly, and finishing strong with the freestyle, after fast backstroke and breaststroke splits. Kalisz beat the previous meet standard, which stood at 1:57.28, by .76 seconds.
Women's 400 Meter IM
Summer McIntosh, 16 years of age, shattered the 400 IM mark, achieving an amazing 4:28.61. She has lately risen to the top, excelling in several different events like the 200 meter butterfly and the 400 freestyle. This swim set new records for the U.S. Open, the world junior record, the commonwealth record, and the American record. McIntosh had an absolutely fantastic race, leading on the butterfly, and swimming beautifully to the finish. By 8.73 seconds, she outperformed the previous meet record.
Women's 100 Meter Backstroke
Regan Smith broke the 100 meter backstroke meet record. Smith is a well-known backstroker who holds the 200 meter backstroke world record. Her best time, which is just 0.12 off Kaylee McKeown's world record, is 57.57 seconds. Smith swam incredibly well and efficiently, shattering the previous meet record by 0.68 seconds.
Men's 400 IM
Additionally, Chase Kalisz broke the 400 meter IM meet record. At the Olympic Games in Tokyo in 2020, he won gold in this event. His best time stands at a 4:05.90, which is just over two seconds from the untouchable world record by Michael Phelps. Kalisz excelled at the breaststroke, while having a solid stroke the entire way, achieving a fantastic swim. By 1.02 seconds, he beat the previous meet record.
Women's 200 Meter Backstroke
Regan Smith also beat the 200 meter backstroke U.S. Open competition record. She recently joined Bob Bowman's training program and has since seen great success. Amazingly, Smith maintained her strength and consistency throughout the entire race. By 1.81 seconds, she smashed the meet record.
With records broken, Olympic trial cuts made, and personal bests achieved all around, this meet was a tremendous success. Everyone is excited to see what these incredible swimmers will offer during the forthcoming championship season, and the upcoming 2024 Olympic Games!