Last Snap?
Everybody is wondering whether Tom Brady is finally done with his career.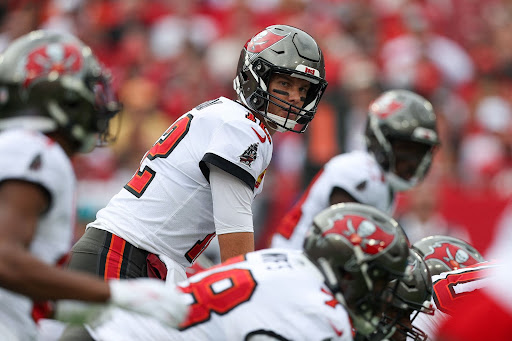 Tom Brady is a well-known athlete popular around the world. He is one of many legendary quarterbacks in the National Football League. Brady has won seven Super Bowls throughout his career with the New England Patriots and the Tampa Bay Buccaneers. He started his breathtaking career with the Patriots back in the 2000s, and ever since then has tended to excel on any team.
Brady joined the Buccaneers only three years ago. After he got beat by the Dallas Cowboys on Sunday, July 15, his season was over. Brady recently became a free agent; meaning he is free to sign and go anywhere he wants. Luckily, Brady knows how to get around. CNN states, he has some background history with Josh McDaniels, when he was on the coaching staff with the Patriots. There have been some rumors that Brady might go join the Los Vegas Raiders with McDaniels. It's convenient since they just dropped their starting QB Derek CarrIs, leaving many asking if he is going to become the new captain of the Raiders.
Brady has had a rough year, according to People. He was married to Gisele Bundchen for 13 years until it was said that he essentially chose sports over his own wife. Brady has a big presence in the sports world, so it must be hard to prioritize his family. Before he finalized the divorce, he took a week off to have some time with his kids, and now Brady and Bundchen will co-parent.
Brady has in the past rumored that he's retiring, but it's never actually happened. It seems as though the media wouldn't be surprised if he retired due to the rough year he's had. Brady is a big sports figure, and may play until it is physically impossible. The only thing that's certain is that Brady's future isn't: will Brady take a snap with the Raiders or will he become the family man he's set out to be? This is still a question that's left unanswered.