Should've Gone All the Way
The San Francisco 49ers' season ended in disappointment.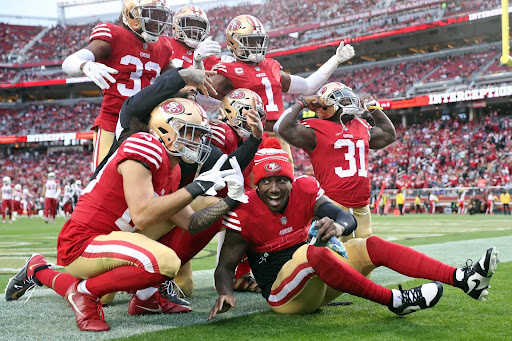 Throughout the whole National Football League season, the San Francisco 49ers have had a great run. They were one of the top teams to beat, becoming a powerhouse midway through the season. The 49ers were bet on by many to make it to the Superbowl while being led by head coach Kyle Shanahan, who's coached for six seasons.
The 49ers started off their season with quarterback Jimmy Garoppolo. But towards the end of the normal season, Garoppolo suffered a foot injury, taking him out for the rest of the season. According to Deadspin, not many knew who was going to take over as quarterback. Then, Brock Purdy, a rookie from Iowa State University, took over, and it was a breeze. Many rookies from the past have had trouble in their first season, but Purdy showed true strength on the physical and mental side. With his talent, he led his new team to outstanding wins, leaving fans in shock.
San Francisco had one of the best offenses this season, which came from having one of the best new quarterbacks this season. According to SFGATE, they also had many other key players, including George Kittle, one of the best known tight ends in the league, and Christian McCaffrey, who is one of the best possible running backs. To their defensive end, they have Nick Bosa, who will get any tackle he wants. With help from their wide receivers, Brandon Aiyuk and Deebo Samuel, these players make such an impact on their game which is what makes them a dominant force.
The 49ers season came up shorter than expected. Brock Purdy suffering an injury in the beginning of the game destroyed their chances of reaching the Superbowl. If Purdy didn't get hurt, many say that the 49ers would have won without a doubt. Many were upset and blown away by the outcome of the game. By losing one link in their squad, they all went down with him.