Norfolk Southern Goes Off the Rails After a Third Train Derailment
A month after the train wreck in East Palestine, worried citizens continue to fear the consequences.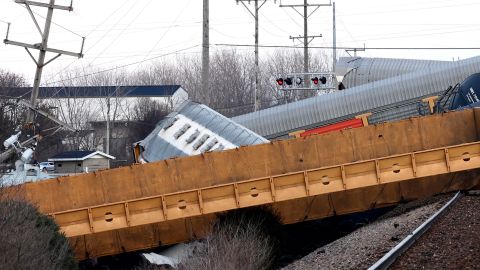 On Feb. 3, 2023, a train carrying dangerous chemicals derailed near East Palestine, Ohio. The New York Times reports the train cars were carrying vinyl chloride, a flammable and toxic polymer used in chemicals used to create materials like polyvinyl chloride (PVC). Other chemicals included butyl acrylate, ethylhexyl acrylate, and ethylene glycol monobutyl ether. A controlled burn was conducted at the derailment site, but many problems and unanswered questions remain for the people of East Palestine.
 A preliminary report released by the National Transportation Safety Board identified the cause of the crash to be a faulty wheel bearing, but the problem goes deeper. Audio leaked to the Guardian reveals that a manager told a former employee of Union Pacific to skip inspections of the railcars to cut dwell time, or the amount of extra time a train has to stay in station for repairs, which is a concerning revelation. Stephanie Griffin, the aforementioned Union Pacific employee, said "Most railroad workers are fighting against an entire system that only exists as a money-making apparatus to the wealthy. Those trains run through our towns, but they do not run next to rich folks' homes, nor next to our politicians' homes. This is a top-down problem."
CNN reports that a high amount of the chemical acrolein was found in the air. Acrolein is a toxic chemical that can cause several health issues including inflammation, irritation of the skin, nausea, headaches, and respiratory problems. Acrolein in the environment can prove extraordinarily damaging to living organisms, especially humans.
With a second derailment near Springfield, Ohio, action has been demanded. CNBC reports that, while the White House has issued a statement and mobilized efforts to address the issue, many believe that not enough is being done. On March 9, another Norfolk Southern train went off the rails in Alabama hours before the company's CEO addressed Congress, according to NBC. CEO Alan Shaw issued an apology and a six-point plan to address safety concerns. While the people of East Palestine continue to deal with what this train derailment has brought to their community, America looks to find ways to keep its citizens safe.