Big Tech Comes to Arizona
Technology companies have chosen to move to the Arizona desert for a variety of different reasons.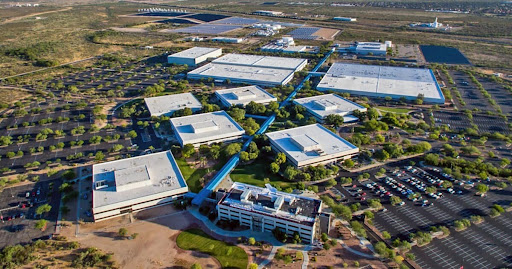 The Phoenix metropolitan area has quickly become one of the fastest growing industrial locations in all of the United States. A large portion of the growth can be credited to the significant amounts of technology companies that have moved to the state. Companies developing all sorts of technologies, such as semiconductors, electric vehicles, data computation methods, and artificial intelligence, have chosen the Arizona desert to relocate to. A quickly growing market along with plentiful open land are just a few of the factors that have led these companies to relocate or build new centers around Phoenix.
Tech developments have never been more noticed than now. In 2021, Phoenix was ranked as one of the largest markets for data centers. There are a few reasons for the increasingly large market and growth. According to Data Center Frontier, a low natural disaster rate allows a sense of certainty and safety when choosing where to open a new site. Low power costs show large corporations that millions of dollars can be saved on utility expenses when moving to the state, especially for those who require a large amount of power to run their enterprises. Arizona also has a tax abatement policy, which grants tech companies a 10-year waiver on all sales taxes for equipment and labor services. All of these factors combined make Phoenix and the rest of the state very appealing to investors in both data centers and other tech operations. These factors have led some experts to call Phoenix "Silicon Desert" or "Silicon Valley 2.0."
Another cause of the large growth is the growing demand for high-paying tech jobs in the valley. According to TechAZ, employers for tech companies are willing to pay extra to keep the best employees at their company. This has caused there to be higher demand for high-quality workers. Luckily, there are about 300,000 people in universities across the state, many of whom want to stay in Arizona. A hefty amount of the students are working towards a degree in some type of technology, which is helping contribute to the growth of the sector in the state labor force.
All these factors have led to rapid growth in the Phoenix area. The CBRE North American Data Center Trends Report of 2021 states that Arizona has become the third most active data center market in all of North America; Yahoo News reported in 2021 that Phoenix is the fastest growing city in the nation. The vacancy rate has also dramatically decreased in the last decade. Phoenix is on track to become one of the world's newest tech destinations. Companies enjoy the inexpensive costs that come with relocating to the desert, and Phoenix may soon be the new Silicon Valley of the United States.