Sky Harbor, the Busiest Airport in the World for One Day
The Super Bowl helped Phoenix's local economy in many ways, especially with the heavy usage of its airport.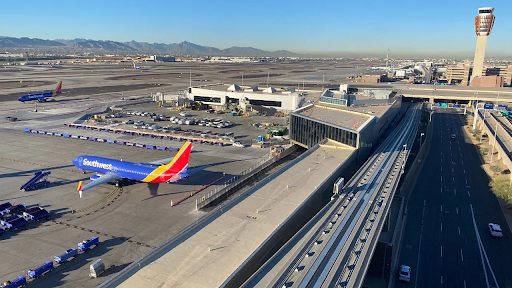 Phoenix played host to the 2023 Super Bowl, and with that came a spike in air travel at Phoenix Sky Harbor International Airport. Sky Harbor is the main airport for the city of Phoenix and the surrounding metro area, gaining the title of megahub because of the large number of passengers that go through the airport every day. According to AZCentral, this is because both Southwest Airlines and American Airlines use the airport as a hub to transfer passengers onto connecting flights, or to a destination and back.
The airport had never been seen as busy as Atlanta Hartsfield Jackson International Airport, the world's busiest airport, which averages around 200,000 passengers passing through each day. However, on Feb. 13, 2023, one day after the Super Bowl, the city and airport reported record numbers of passengers and takeoffs. ABC15 news stated that flight tracking service FlightRadar24 reported a 40 percent increase in arrivals to Phoenix compared to the same day last year. The airport also stated that they had 83,000 people departing, double the normal amount of departures. Phoenix city officials believe that in total, 10 percent of all people flying domestically on that day passed through Sky Harbor one way or another.
Even with the large influx of commercial traffic, things ran smoothly. According to KTAR News, the airport security checkpoint wait time never exceeded 22 minutes while dealing with more people than usual. Sky Harbor was glad to say that they received many positive reviews from passengers there from the Super Bowl. While it is highly unlikely that Sky Harbor will permanently become the busiest airport, it was fascinating to see a local institution see the limelight for a day.