MS Volleyball B Team Starts Season with a Win
Shouts of "mine!" or "my ball!" rang through the gym on September 3. The middle school girls' B team volleyball season started with a win. They played a home game against the Rancho Solano Mustangs.
It was a near perfect beginning, what with the easy points and the simple judging. The most impressive play in the game was when seventh grader Olivia Moran spun around and hit the ball straight over the net, earning a point.
Seventh grader Tessa Daake made more than a few exceptional serves, which definitely played a part in the team's triumph.
They also showed phenomenal teamwork. The girls gave high-fives to each other after each point, whether it was won or lost. The teammates' parents showed up to the game to encourage and support the team. Seventh grader Reece Stover shared, "I think it's great that all the parents were supporting their girls. It really helps to push us because, one, it encourages us to show up the girls from the other school," she said chuckling, "and two, it gives us a lot of strength to know that people are watching and rooting for us."
"The serves were rough sometimes, but we killed it out there!" said Stover in excitement after the team's victory. Teammate Jana Smyers, another seventh grader, nodded in agreement.
Their next game will be September 9, and the season will last until October.
Leave a Comment
About the Writer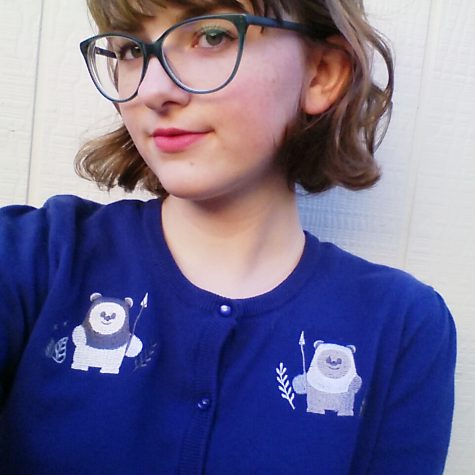 Addy Bennett, Editor-in-Chief
Addy Bennett is a senior in her eleventh year at Horizon Honors and is excited to continue as the Editor-in-Chief in her sixth year of Journalism. Bennett spends her free time embroidering, crocheting, knitting, playing video games, and taking pictures of her dogs, Pocket & Tripper. She loves to be with her family, especially when they are all eating, and she tries to provide both comic relief and advice for all her friends. Bennett is also interested in film and fashion (both vintage and modern), and is big on the color pink and lots of lipstick. And she makes a mean bowl of guacamole.