The Crazy Cool College and Career Center
The CCC can do a lot for students.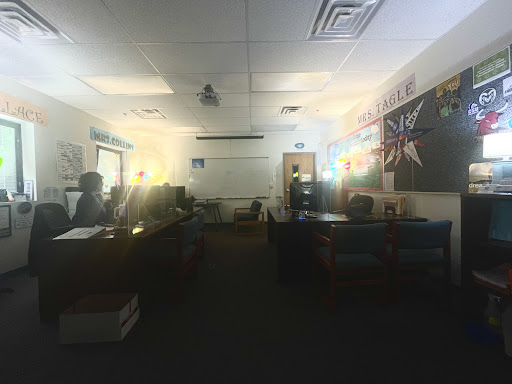 Here at Horizon Honors Secondary School, there is a place that can answer students' questions and help guide them through high school and beyond: the College and Career Center (CCC). Counselor Erin Collins, Student Advisor Heather Wallace, and College and Career Advisor Amanda Tagle run the CCC from 8:00 a.m. to 3:30 p.m.  Students can walk to the CCC, which is located inside the Media Center, and get help with any questions they have about school. According to the Horizon Honors website, the College and Career Center is designed to provide students with a comprehensive developmental counseling program. The focus of it is on the student's academic, career, personal, and social development. They work with students, parents, teachers, and colleges to maximize the student's potential.
February is college and career month. At Horizon Honors, students are assigned activities in their college and career readiness classes (CCR) to explore ideas for their career. The CCC plans helpful presentations and work for students that will let them discover their own future. For example, a student is tasked with taking a quiz in their CCR that will show them what careers they may fit in based on their interests and goals. These activities, while focused in the month of February, extend throughout the year.
The CCC can not only help with a student's high school planning but is also there for a student's emotional needs. Inside the CCC, there is a quiet room equipped with comfortable seating, writing utensils, stress-relieving toys, and positive quotes to make it a safe and calming space.  The CCC recognizes that students can all have tough times while they're at school, and it's ok. While many may see the CCC as a strictly academic setting, it's important to know that the CCC counselors are there for the whole student, including their emotional struggles.
If you haven't already, check out the CCC. It's an amazing place that can help you in your present and your future. Don't hesitate to get the help you need from competent and qualified professionals: go to the CCC and open the door to your best self.