Lemon Crunch Cake
The lemon flavor and light frosting combined with a toffee topping makes the Lemon Crunch Cake a delicious spring dessert to bake to make for parties and friends.  This is a popular Hawai'i dessert made famous at restaurants like Aiea Bowl and Diamond Head Bakery.  If you try it once you'll want to have it again!
Cake Ingredients:
1 box yellow cake mix
3/4 cup water
1/2 cup oil
1 tsp. lemon extract
3 separated eggs
1/4 tsp. cream of tartar
Topping Ingredients:
16 oz. heavy whipping cream
1/4 cup powdered sugar
1/2 tsp. lemon extract
1 package Heath bars
1 cup lemon curd
Directions:
1. Preheat oven to 350 degrees and grease and flour two round pans (8 inch.)
2. In a large bowl, combine the yellow cake mix with water, oil, egg yolks and lemon extract.
3. In a medium bowl, use a whisk to beat the egg whites and cream of tartar until it is light and fluffy.
4. Gently fold the egg whites into the contents on the larger bowl.
5. Pour the batter into the two cake pans and bake for 30-35 minutes and wait until cool.
6. Combine the heavy whipping cream, powdered sugar and lemon extract together in a bowl and use an electric mixer at a high speed to beat the ingredients until the contents appears like whipped cream.
7. Remove cakes from pan and spread a layer of lemon curd on top of one cake, and cover it with the whipped frosting.
8. Place the second cake on top of the first, spread lemon curd on the top, and then cover with whipped frosting.
9. Cut the Heath bars into small bits and place on the sides and top of the cake or as desired
10. Refrigerate for 2-3 hours before serving.
Enjoy your tasty treat and share it with friends and family.  The cake will disappear quickly!
Leave a Comment
About the Writer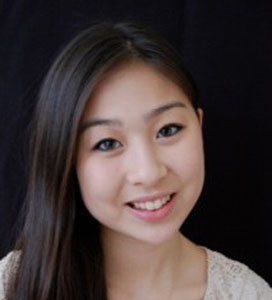 Anja Asato, Editor In Chief
Anja is a senior at Horizon Honors, and this is her third year in journalism. Anja originally started in journalism to become more confident in writing. Anja progressed from columnist to News Editor, and this year she is the Editor In Chief. Journalism is one of her favorite classes, as she is able to learn, share, and write about different events and ideas while collaborating with other students. Anja is thankful for the opportunities journalism has provided including a scholarship to attend the ASU Walter Cronkite Summer Journalism Institute and AIPA Fall Conference where she was able to connect with student journalists from other schools and learn from professionals. Anja hopes to utilize the skills she learned to contribute to the development of The Horizon Sun.
Anja is very interested in fashion and spends her free time reading about designers and trends and shopping. She believes that being involved in the community is very important, and volunteers whenever possible. Her other hobbies include ballet, baking, photography, and traveling. She hopes to combine her passions for journalism and fashion in a career in communications and public relations.