Sly Cooper Review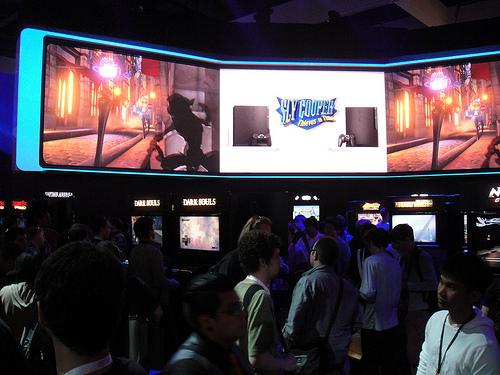 The Sly Cooper games are awesome. The series is filled with large game worlds, crazy ninja skills, unforgettable characters, humor, and fun and inventive levels. Most everyone who plays video games has at least heard of Sly Cooper, and it is one of the most popular series that turn kids into lifelong gamers.
In the first game of the series, Sly Cooper and the Thievius Raccoonus, the audience follows master thief Sly Cooper, who is an anthropomorphic raccoon, his super-smart turtle friend Bentley, and his wimpy hippo pal Murray. Together they go to different locations around the world like Paris, Haiti, and China to collect the missing pages of Sly's book, the Thievius Raccoonus, which was stolen when he was a child. In the end, he faces off with Clockwerk, a giant robot owl who is responsible for the death of his parents. Along the way he is hunted by Carmelita Fox, a cop who has been trying to catch Sly for years. Each page of the Thievius Raccoonus collected gives Sly a new ability like wire-walking and attaching to rings with Sly's Riddler cane. You use these skills to get through the levels, which usually involve sneaking around to get enough keys to unlock the door to the boss battle. The game was so fun I found myself going back long after I beat it and replaying some of the levels.
The second game, Sly Cooper: Band of Thieves, boasted bigger, better open-world exploring, cool new gadgets, the ability to play as Bentley and Murray, as well as more varied and fun levels. The only downside is the removal of level replay, so once you complete it you're gonna have to start a new game if you want to play it again. Other than that, though, I had just as much fun wandering through the open-world hubs, my favorite being the Canadian plains. The story is intense and the levels that go along with it are more fun and creative than before. In one level,  for example, players have to sneak  into vents, take pictures of the villain, then hide in barrels to slowly get to some explosives to blow up the area.
The third game in the series, Sly Cooper: Honor Among Thieves, is arguably the best story so far. In an Oceans 13-style search for people to help break into a huge safe, the gang travels to Holland, a pirate bay, Australia, and back to China. This game brought back level replay, which is great since there are so many great levels (Lemonade-drinking competition? Count me in!). Some levels also allow you to control Carmelita Fox, and the game brought back a few characters from past games. Over the course of the game, Sly and his friends pick up new gang members that will help him get to his family's safe, which has been taken over by a crazy monkey called Dr. M. The game is my favorite in the series so far, and my favorite hub world is Holland. The game also includes 2-person minigames, such as a pirate battle, biplane dogfight, cops and robbers, and a co-op hacking game.
Sly Cooper: Thieves in Time is the newest game in the series and, as you can guess, it involves time travel. That seems pretty heavy, but it is a cool idea which is hinted at in the end of Sly 3. In this installment, the pages of the Thievius Raccoonus have mysteriously been disappearing and it is up to the Cooper Gang to get them back. The game slightly reminds me of Assassin's Creed because Sly travels to different time periods like feudal Japan and the middle ages and meets his ancestors. Each place – and time – you visit lets you take control of Sly's ancestor, and each has his own ability.
The levels are inventive as well and the game returns to its trademark humor. My favorite hub world in this one is the Old West world. The ending is fantastic and it opens up the possibility for another one. Sucker Punch, the game studio behind the last three games, gave the rights to Sanzaru Games for this one, so it may seem slightly different. Maybe you're not ready for a development shift such as this… but your kids are gonna love it.

Sly Cooper is one of those things that is near and dear to my heart because it was the first video game I ever played. The series got me into video games, and because of it, I don't see myself ever stopping. It's one of those games that never gets old, and can be enjoyed by all ages.