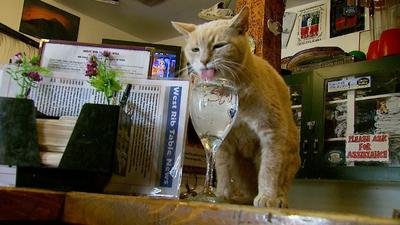 Stubbs is the beloved mayor of the small town of Talkeentna, Alaska, and has been for the past three years. He has passionately lead his people through his excellent leadership skills and powerful way with words. Or, at least he would if he wasn't a cat.
He has been the small town's mayor for the past three years, and the citizens of Talkeentna are very pleased with his work. Rumor says that when the vote for mayor was in progress, a large number of people didn't support any of the human candidates, so people wrote in Stubbs the cat. However, in an interview with NPR, it was revealed that the small town has no "real" mayor, so he could not have been elected in that process. Yet here he is honorably leading his small town into the future.
Every day Stubbs does his duty to help his people. He creates a great tourist attraction and brings in a handful of people each day to come and visit him. People love to come see him do his daily routine which includes drinking water out of a wine glass rimmed with catnip.
Throughout his time as mayor he has grown a fan base and many people living in Talkeeta don't want to see him go anytime soon. However some people are worrying about his health, as the life span of a cat isn't incredibly long, and he has lived for sixteen years thus far. It's certain that Stubbs is Talkeentna's most loved mayor.