How to: Crayon Art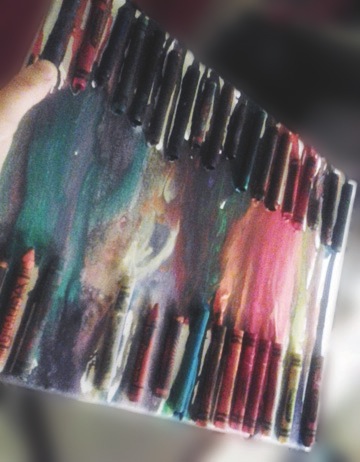 Crayon art is very unique and fairly simple – all you need is a canvas, crayons, and a hot glue gun or a hair dryer. This is a fun project to do over the summer with your friends or at a party. Every time you make one, it's going to be different and you can get really creative with it. Depending on the method you choose, you can create a flower, heart, or something more abstract. There are two ways to do crayon art: with a hot glue gun or with a hair dryer.
Hair Dryer:
Step 1: Hot glue crayons onto the canvas in your desired arrangement and let dry.
Step 2 (optional): Place stickers down before melting the crayons. When you remove them, the shape of the sticker will be left on the canvas.
Step 3: Use a hair dryer to melt the crayon.
Hot Glue:
In order to use the hot glue gun, insert crayons into the gun as if they are the glue stick. Once the crayons have been heated up, squeeze the glue gun trigger as normal, and shape the melted crayons into the desired design.