Where There's Coke, There's Hospitality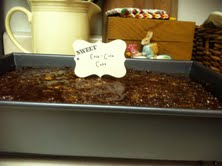 Coca-Cola cake carries the essence of all Southern cooking.  This mouthwateringly delicious dessert is sure to become a favorite, even with people who don't like soda.
COCA-COLA CAKE:
12 servings
Start to finish: 50 minutes
Ingredients:
1 cup of Coca-Cola
½ cup of buttermilk
1 cup butter or margarine, softened
1 ¾ cups sugar
2 large eggs, lightly beaten
2 teaspoons vanilla extract
2 cups all-purpose flour
¼ cup cocoa
1 teaspoon baking soda
1 ½ cups miniature marshmallows
Coca-Cola Frosting
Garnish: ¾ cup chopped pecans, toasted
Combine Coca-Cola and buttermilk; set aside.  Beat butter at low speed with an electric mixer until creamy.  Gradually add sugar; beat until blended.  Add egg and vanilla; beat at low speed until blended.  Combine flour, cocoa, and baking soda.  Add to butter mixture alternately with cola mixture; begin and end with flour mixture.  Beat at low speed until just blended.  Stir in marshmallows.  Pour batter into a greased and floured 9"x13" pan.  Bake at 350 degrees for 30 to 35 minutes.  Remove from oven; cool 10 minutes.  Pour Coca-Cola Frosting over warm cake; garnish, if desired.
COCA-COLA FROSTING:
Start to Finish: 10 minutes
Ingredients:
½ cup butter or margarine
⅓ cup Coca-Cola
3 tablespoons cocoa
1 (16 ounce) package powdered sugar
1 tablespoon vanilla extract
Bring first 3 ingredients to a boil in a large saucepan over medium heat, stirring until butter melts.  Remove from heat; whisk in sugar and vanilla.
So there you have it. One perfectly moist, chocolate-y, and delightfully scrumptious Coca-Cola Cake. Go, now, and impress your family and friends. Bake it as many times as possible. And then eat it. It's good for the soul.