An Epidemic
With a death count nearing 2,000, the Ebola virus has truly plagued West Africa, and isn't stopping there.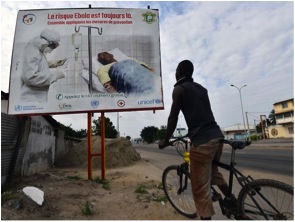 Recently declared a national health emergency, the outbreak of Ebola has taken the world by storm. It has claimed the lives of half of those infected and threatens to cross the border to another African country at any moment. Currently, only four countries have cited cases of Ebola, but efforts to contain the virus may not go according to plan.
Liberia, Sierra Leone, Guinea, and Nigeria are the four countries in question, listed respectively by the severity of the outbreak. The virus has largely laid dormant since its first appearance in 1976 when it claimed the lives of 280 Africans in the current-day Democratic Republic of Congo. Twenty-four years later, the Sudan variation popped up in Uganda, killing 224. Today, West Africa is dealing with the Zaire (named after the virus' place of origin) species, arguably the most deadly.
Gestation can be anywhere from two to 21 days, with symptoms beginning as those redolent of malaria or typhoid fever. The virus attacks multiple internal organs at once and is in most cases, coupled with internal and external bleeding.
In addition to the four primary countries, the Democratic Republic of Congo has reported 13 cases, seemingly unrelated to those farther up the coast – proving measures to contain the virus in the infected countires have been positive thus far. However, 40 percent of all reported cases have come up within the past three weeks. If the virus continues to push within the confinements of its current line of fire, it has the capability to spread elsewhere, and quickly.
That being said, the World Health Organization (WHO) has introduced a "road map" plan of attack in the eradication of the faceless killer, targeted at "respond[ing] to the urgent need to dramatically scale up the international response." In addition to this device, WHO is more determined than ever to launch treatment centers, accelerate sustainable development, and employ hygienic burials.
In an age of instantaneous gratification, information travels faster than the speed of light, and when the world is confronted with an epidemic like the Ebola virus, so does fear. With knowledgeable organizations like WHO on its tail, the Ebola virus shouldn't count on reigning much longer.