Captivating Colorado
Colorado is known for its picturesque mountains and tourist attractions. The Royal Gorge, Manitou Cliff Dwellings, and Garden of the Gods are three enticing options.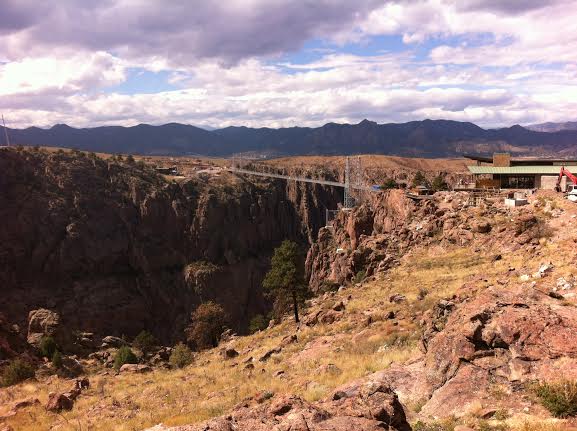 Colorado is best known for its tourist attractions. I got the chance to visit three of them: the Royal Gorge, Manitou Cliff Dwellings, and the Garden of the Gods. After a 14-hour drive with an overnight stop in Gallup, New Mexico, we finally arrived in Colorado Springs.
The Royal Gorge is ten miles long with the Arkansas River flowing through it. The gorge is made of granite that towers over 1,000 feet. According to royalgorgebridge.com, it was formed about three million years ago, slowly being eroded by rain. The bridge that the Royal Gorge is famous for hangs 956 feet above the Arkansas River, which flows under the bridge. The Royal Gorge is scenic and is a must-see if you visit Colorado, especially if you are near Cañon City.
The Manitou Cliff Dwellings are located in Manitou Springs, Colorado. The dwellings were created by the Anasazi, but scientists don't know for sure why they left their pueblos. Actually being able to walk around and get inside the dwellings was the most interesting part of the visit. Many of the "houses" had multiple levels, or stories, to them. However, one level of a three-family complex could barely fit my brother, his wife, my dad, and me. Before we traveled to the dwellings, though, we went through the museum. One fact that stuck with me the most was that if a person had a headache, it was thought that he or she had a demon inside his or her head, so they would stab their skull. The Manitou Cliff Dwellings were the most interesting place we visited in Colorado.
    Garden of the Gods is located in Colorado Springs, but is only a short drive away from the Cliff Dwellings.  According to gardenofgods.com, the park got it's name because two surveyors thought the area would make a good beer garden, a "fit place for the Gods to assemble," and called it Garden of the Gods from then on. The park is a National Natural Landmark in Colorado Springs. It was a bit chilly when we were walking around and enjoying the sights, but it was nice after a while.
After having to wake up at an ungodly hour, my dad and I were heading back to Arizona. I spent most of the time sleeping and playing video games, but occasionally I looked outside the window and got to see some beautiful nature as we drove past it. Our trip was over at around 9 p.m. when we reached Phoenix.