Chocolate Turtle Cake
This cake is a chocolate lover's dream, with layers of rich caramel, pecans, and chocolate chips.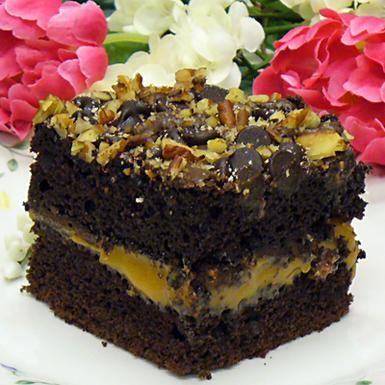 Every year on my birthday, I always have to choose which cake I want to serve my friends and family. For the past three years, this Chocolate Turtle Cake has been my go-to dessert! It is not only super easy for a turtle cake, but it also tastes absolutely amazing. The secret? It starts with a cake mix, and then you go from there to create a rich and gooey dessert.
Ingredients:
1 devil's food cake mix

¼ cup powdered dark cocoa

1 cup water

½ cup vegetable oil

3 eggs

1 (14-ounce) bag of caramels (without wrappers)

3 Tablespoons evaporated milk (cream works too!)

2 cups semi-sweet chocolate chips

1 ¼ cups chopped pecans
Preparation:
Preheat your oven to 350 degrees, and grease a 9-by-13 inch pan.
Combine the cake mix, cocoa powder, water, vegetable oil, and eggs in a large bowl. Beat for approximately three minutes, until everything is well mixed. Pour half of the mixture into the pan, and bake for 15 minutes.
As the cake cooks, it's time to melt the caramel. Over low heat, mix the caramels and evaporated milk in a saucepan. Make sure to stir constantly so the caramel doesn't burn! Remove from heat when it is smooth.
Take out the cake, and pour the warm caramel mixture over it. Top with 1 cup of the chocolate chips, and 1 cup of the pecans. Pour the remaining cake batter over it, and finish it off by sprinkling the rest of the pecans and chocolate chips over the top.
Bake for an additional 15 to 20 minutes, and then take it out to cool. Serve in small portions, because this cake is extremely rich. Enjoy!