Leaf It All To Me: DIY Thanksgiving Decoration
A leaf jar is a wonderful Thanksgiving accessory for around the house – it will be sure to brighten your night.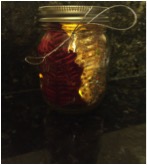 This decoration is all about the holidays. It is a simple leaf jar that is easy to make with just these steps below.
For this decoration you will need these supplies:
Any type of jar

Fake colorful leafs

Small electric tea light

Tape

Ribbon to tie around
After gathering what you need, you can begin assembling your decoration.