Brilliantly Blended Salsa
Spice it up with homemade salsa.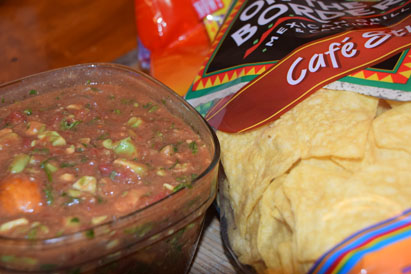 Here's an easy, quick, and simple salsa recipe that will add some flavor to your taste buds.
Ingredients:
1 (1 lb) can of whole peeled tomatoes
3 to 4 serrano peppers (optional)
½ yellow onion
1 bushel of cilantro
½ lemon
1 tablespoon and ½ a teaspoon of salt
½ teaspoon of pepper
3 avocados
Before doing anything make sure that you have all your ingredients laid out, so it's easy to reach everything.
First, in any type of blender or processor, grate tomatoes until they're thoroughly smashed. Once you've done this, place them in a medium sized container.
Afterwards, cut your avocados into 1 inch squares and drop them into the salsa.
Next, grate the serrano peppers with onion and combine them in with the tomatoes.
Then, mince the cilantro until it's finely chopped and add it to the container.
Once you've finished, add in about a tablespoon and half a teaspoon of salt, followed by pepper and half a lemon.
Lastly, carefully stir it all together and enjoy!