Don't Be Blue, Just Chew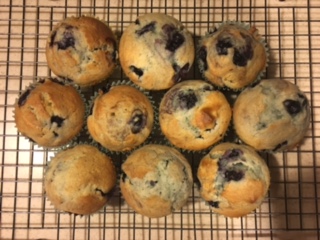 Muffins can be eaten for breakfast, snack, or even desert. They are one of my favorite treats, and are super easy to make. In fact, this recipe only takes about 30 minutes to complete.
Ingredients (makes 30 muffins):
4 eggs

2 cups white sugar

1 cup vegetable oil

1 tsp vanilla extract

4 cups all-purpose flour

1 tsp salt

1 tsp baking soda

2 cups sour cream

2 cups blueberries (fresh or frozen)
Steps:
Preheat the oven to 400 degrees Fahrenheit or 200 degrees Celsius.

Grease 30 muffin cups or line with paper muffin holders.

In a large bowl, beat eggs, and slowly add sugar while beating. Next, keep on beating while gradually pouring in oil. Mix in the vanilla.

In a separate bowl, stir the flour, salt, and baking soda together.

Combine the dry ingredients into the egg mixture alternately with sour cream. Carefully fold in the blueberries. Scoop the batter into prepared muffin cups (fill about ⅔ full).

Bake in preheated oven for 20 minutes.
This recipe is simply scrumptious, and will surely cure your starving stomach.