Ohio Runner Disqualified Because of Hijab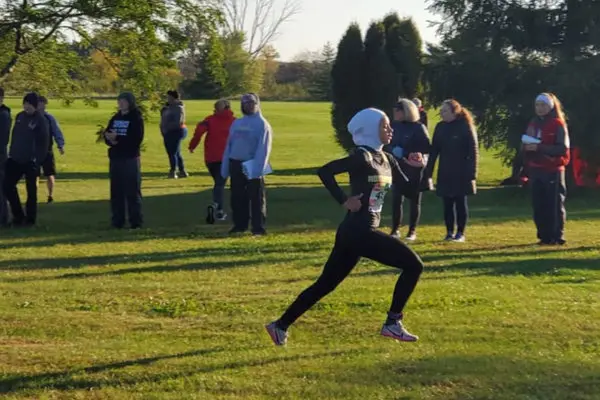 Sixteen-year-old Noor Alexandria Abukaram had just run her best time yet, with her team heading to the regional competition, but she was devastated. According to CBS News, when the team went to check their individual times at the Ohio cross-country meet, Abukaram did not see her time of 22:22 for the 5k cross-country run listed. Abukaram was convinced that there must have been a mistake, but when she confronted her teammates, they told her the awful truth: she had been disqualified for wearing her hijab, a religious head covering. When Abukaram learned of this, she told Sports Illustrated that, "it was like a nightmare come true."
Her choice as a Muslim woman to wear a hijab was a violation under the rules of the Ohio High School Athletic Association (OHSAA). No "extra garments" were allowed without request.
According to Abukaram on her cousin's Facebook page, the officials at the race were checking teams' uniforms and when they had found a problem with another racer's shorts they allowed her to change and come back. The officials walked by Abukaram without a word. Even her coach, Jerry Flowers, didn't say anything, and he knew Abukaram's run would not count. According to Newsela, Flowers said that he only found out about the rule "at the starting line" and didn't say anything because he didn't want to distract her. He believed Abukaram deserved to run as a varsity member. Abukaram's story even caught the eye of presidential candidate Elizabeth Warren, who tweeted out to her in support, saying "I've got your back".
Abukaram said that her hijab had never caused an issue in her other activities. Up until this race, the rule was never mentioned to her. Her family supported her frustrations, with her mother, Yolanda Melendez, stating that her daughter "earned her time on that race." 
Luckily, when Abukaram requested permission to wear her hijab after the race was over, her paperwork was completed immediately. Now, all Abukaram has to worry about is the regional competition.