Cookin' Up Blue Corn Mush
The delicious, famous Navajo blue corn mush recipe is here!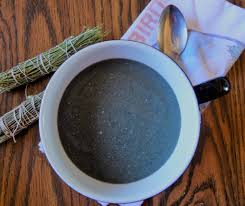 Ingredients:
1 to 2 cups of blue corn powder

2 to 2 ½  cups of water
Directions:
Bring water to a rolling boil.

Pour the blue corn powder slowly into the water, making sure to stir as you pour the powder in.

Stir until no bumps are left in the mixture, around 20 minutes. 

Serve hot.
Once you finally complete your recipe, you may add anything as you desire, such as sugar, honey, fruit, and even milk. Sugar gives the mush more flavor and makes a more unique taste. This dish is a staple in Navajo culture and is mostly eaten in the winter. It is also found on the table at special ceremonies and sacred gatherings with family and relatives. Although its origins are unknown, the Navajo people have been eating blue corn mush as long as anyone can remember. Enjoy your mush!