The New Restaurant in Town
A new restaurant in the valley, Tabe-Mono, was a pleasant surprise. The large menu and the kind and helpful servers made the experience one to remember.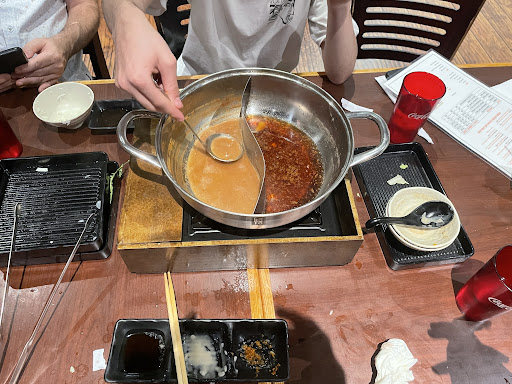 Tabe-Mono, a hidden gem in the Ahwatukee area, had its soft opening on Sept. 15. Tabe-Mono's menu is full of authentic Japanese food and specializes in sushi and Shabu.
It felt like the servers and chefs really wanted to make sure we were being helped and were happy. For example, they constantly were checking up on us and asking if we needed anything. They also encouraged us to write a review on Yelp. The service was very enjoyable, and the food came quickly. If we had questions, the servers did a great job answering them. Overall, the service was on point. From the second we entered the restaurant to the second we left, we were being helped by the servers, but it didn't feel like they were on top of us.
The food at Tabe-Mono is also a big selling point in encouraging me to go back. To start, the menu has an abundance of choices. My party of four enjoyed two different broths of Shabu with chicken and brisket; it was the perfect amount and left us satisfied. The Shabu came with a large bowl filled with the broth over a stove to keep the broth boiling. It also came with sides of veggies, proteins, and rice. Tabe-Mono has tons of choices for sushi and the prices range from $5 to $16. You can also get sushi combos that cost up to $55. There is a plethora of choices for different appetizers, broths, salads, sauces, sides, and desserts. It's definitely a place for the entire family to find something.
The atmosphere at Tabe-Mono is identical to Sushi-Ken, Tabe-Mono's predecessor. When you order the Shabu, the table has a very fun vibe and is full of laughter. I was very comfortable sitting in the restaurant, even with all the COVID concerns. The restaurant was not busy; at the time of my visit, there was only one other party, so it might feel different when there are fewer vacant tables.
My first impression of Tabe-Mono was positively strong.The restaurant's address is 4206 E Chandler Blvd, Ste 7, Phoenix, Arizona, 85048 and (480) 687-2503 is their phone number. I highly recommend a visit to Tabe-Mono for its pleasant atmosphere and vast menu. Enjoy your visit!