What's the Deal with Eastern Europe?
As tensions in Eastern Europe are rising, it is important to be informed and up to date on the events between Ukraine and Russia.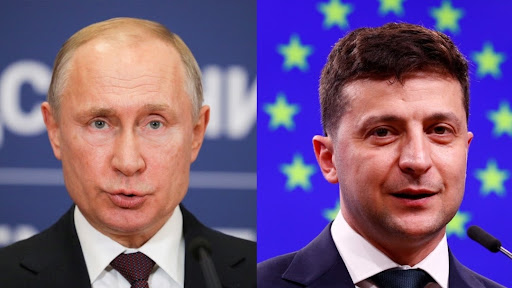 There are many things to consider when learning about current events. It's important that you have enough information before you share it with others. The current conflict between Russia and Ukraine is very sophisticated, it goes back a long time, and is incredibly nuanced.
According to the BBC, Ukrainians have been living with the fear of a Russian invasion for several years now, an outcome of the Russian occupation of Crimea. However, in recent years, the pressure is much larger due to the increase of troops. This may result from Ukraine getting closer to the West, to Russia's dismay. Getting closer to the West and the North Atlantic Treaty Organization (NATO) diplomatically means having an organization formed to take down Russia at its doorstep. However, NATO is in no rush to make Ukraine a member, as stated by Insider. Also, as stated in the BBC, recent events in Afghanistan may also be a cause for the increase in pressure. Some people believe that the way that things were carried out in Afghanistan shows a "lack of western unity." This may give Russia the impression that the West is weak and unorganized and may take this as an opportunity to invade Ukraine.
Here are some of the recent developments leading up to present day, from the Council on Foreign Relations: in October, Russia moved more troops and equipment closer to the border. Also, in the middle of December, Russia issued a list of demands to the international community, one demand being that NATO refuse to accept Ukraine as a member.
On Feb. 2, according to ABC News, President Biden deployed US troops. Some of these troops were already stationed in Europe, and others are arriving from the US. They will go to NATO allies to provide reassurance of protection. In the meantime, Russia continues to build on its forces. Russia's response to the deployments? "Destructive." The White House wants to clarify that the US deployments"are not permanent moves."
UVA Today mentioned how it's impossible to tell if Russia will invade or not. Clearly, the addition of troops and anti-Ukraine talk in Russian media strongly suggests it is approaching. However, there are far less risky options that Russia may take. For example, they have the power to undermine the Ukrainian government with the use of cyberattacks. Also, just the fear of an invasion can have large effects. When Russia uses these tactics, they don't need to worry about the consequences the US is likely to deliver. With all things considered, Russia's plan is virtually unknowable.
CNN says that President Biden met with the new German chancellor Olaf Scholz on Feb. 2. The two countries are working together "to deter Russian aggression." In a joint press conference, the two leaders mentioned how diplomacy is the ideal solution for all parties. They strongly believe that NATO is ready for an invasion and threatens Russia with a "high price" if they go through with an invasion. Russia has very important international deals, one of these is the Nord Stream 2, which is a pipeline that delivers gas from Russia to Germany. President Biden has threatened to take down the project if Russia invades.
As time goes on, there continues to be more information about this story. This is a very relevant situation for everybody around the world because of the effects an invasion may have. For example, according to The Middle East Institute, an invasion would have a negative impact on gas, food supplies, and more.