How Netflix Introduced Americans to a New Sport
A large amount of Formula One's recent growth has come from Americans watching Netflix during lockdown.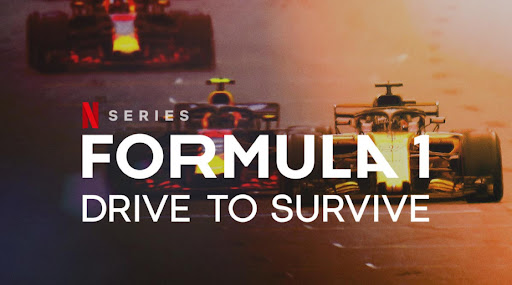 During the Coronavirus lockdown in 2020, many Americans who found themselves stuck at home decided to watch new movies and shows. One show that gained popularity on Netflix was "Formula 1: Drive to Survive." "Drive to Survive" is a Netflix original series that follows the week-to-week life of Formula 1 teams and drivers as they go through their season. When lockdown first started, Formula 1 hadn't appealed much to the American audience because it was so different compared to popular sports in America. "Drive to Survive" showed doubtful Americans a different perspective about the sport, one that was more appealing.
"Drive to Survive" was started as part of a restructure of the Formula 1 company. Liberty Media, the company that owns SiriusXM and the Atlanta Braves, bought Formula 1 for 4.6 billion dollars in 2018 after a large decrease in viewership. According to The New York Times, Formula 1 had a loyal, yet small fanbase, especially in the United States. When the first season of "Drive to Survive" was released in 2019, hardly anybody in America had cared about Formula 1, if they had even heard about it in the first place. Viewership hardly went up and people still didn't attend Formula 1 events in America. Yet in 2022, when Netflix released season 4 of "Drive to Survive," TV viewership of Formula 1 in America doubled, and "Drive to Survive" became the most watched Netflix series in 33 countries. Attendance of the United States Grand Prix reached 400,000 people, an average of 140,000 people attending per day. The first race of 2023, the Bahrain Grand Prix, saw 1.31 million viewers in the United States, the highest ever.
The increase of American viewership has prompted Grand Prix organizers to add more events in the United States. The Athletic states that in 2022, Formula 1 added the Miami Grand Prix to the schedule, and the Las Vegas Grand Prix will be part of the 2023 calendar. In total, there are three Formula 1 Grand Prix events in America in 2023. Formula 1 has also signed a new deal with Disney, the owners of ABC and ESPN, to broadcast races until at least 2025.
While "Drive to Survive" has positively affected the Formula 1 world, it hasn't come without some controversy. Sports Illustrated says that fans were upset over the start of the most recent season of "Drive to Survive" because it started off by showing the 2021 Abu Dhabi Grand Prix, a very controversial race that decided who the 2021 World Drivers Champion would be. Another controversy among the "Drive to Survive" fanbase is the use of radio communication, interviews, or commentary at the wrong event or in the wrong situation. The "Drive to Survive" producers also make the on-track action overly dramatic, something that many people dislike. Despite the looming controversies with the show, it can't be denied that it has helped Formula 1 stay relevant and popular amongst the United States fanbase.