"Faking It" Just Isn't Making It
MTV's attempt at a hit run by instead of supported by token gay characters has fell flat on it's face. "Faking It" can't hide its mediocrity much longer.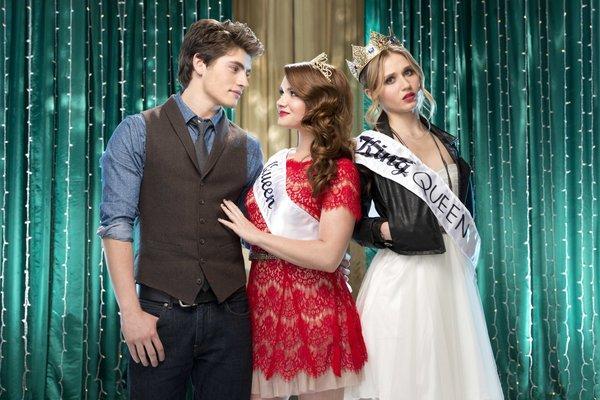 MTV's "Faking It," a teen comedy based in the sexually-conservative, present day Austin, Texas debuted in late April of this year. The show wrapped the eight-episode first season in June and took home a Teen Choice Award for "Choice TV Breakout Show" right before gearing back up for season two. With a scheduled ten-episode run this season, "Faking It" doesn't seem to be going anywhere. And unfortunately, neither does the plot.
With a promising pilot episode, "Faking It" had me ready to watch until the end, but with every passing week, the show got progressively more…weak. Take for example the rapid pace at which the plot moved in season one. First episode: let's pretend to be lesbians so people will like us. Second episode: uber-inflexible mother thinks it's real. Third episode: protesting? Sixth episode: mad-hot ballroom anyone?? Season finale: one of them is a real lesbian and actually in love with her best friend.
Well, that was a disorganized disaster. Maybe we should back up. So we have Karma Ashcroft a talented, pretty girl who only craves acceptance and will do just about anything for it. Her parents are…hippies, to put it lightly, and the complete opposite of her best friend's. That brings us to Amy Raudenfeld who has just become the stepdaughter of a narrow-minded reporter that her dad married. Along with a new mother, Amy gained a sister, Lauren Cooper, who hates her new school and hates her new sister even more.
As for the boys, Hester High School's biggest catch is the one and only Liam Booker. He is an infamous heartbreaker and a bit of an undercover sensitive type; but in this case, he serves as Karma's secret crush and the reason she needs attention, and in turn becomes a fake lesbian. His right hand man is Shane Harvey, the show's first token character. Shane is everything the stereotypical gay high schooler should be: fashion forward, sassy, the best secret keeper, promiscuous, popular, supportive, all that and a bag of chips. C'mon MTV, get your act together.
This show was supposed to be a sensation – unmasking the demon that is using sexuality to get attention. So why then, do we have only one main character that is gay from the start? MTV has a history of bringing on and killing off their token gay characters. Ethan and Danny from "Teen Wolf" anyone? And if the station doesn't kill the characters off, they don't even have them: "Awkward" just got it's first pair of gay guys…in their fourth season; "Finding Carter" and "Happyland" don't have any.
Let's get back to the real issue at hand, "Faking It" is not just failing its mission, but making a joke of it in the process. I don't appreciate the lack of consideration put in by the writers. Not only that, the actors don't do much with what they're given – not that they're given much in the first place. After 11 episodes, "Faking It" proves to be just another forgettable high school tale.