Legendary LVII
Super Bowl LVII had many memorable moments throughout the whole night.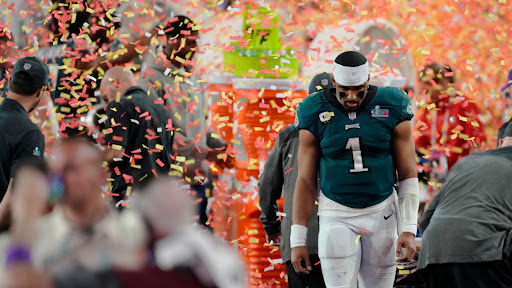 Super Bowl LVII was held in Glendale, Arizona, at State Farm Stadium. The two teams going head to head were the Kansas City Chiefs and the Philadelphia Eagles. Both teams have been at the top of their conference throughout the season, so it was going to be a good game from the start. This game was a close one; the Chiefs just barely won at 38 to 35, making them the Super Bowl champions.
Super Bowl LVII was a slip and slide. According to AP News, many players throughout the game had trouble getting their footing because they couldn't keep themselves from falling. This led to many players changing cleats, which received a lot of attention from announcers. For instance, Isiah Pacheco from the Chiefs scored a touchdown and during his celebration he slipped and fell. Many came to the conclusion that players were slipping in parts of the field where the grass had been painted extensively.
There was a very questionable penalty call that was made with only 90 seconds left in the game. The Chiefs and Eagles were tied at 35 to 35, so the game could've gone either way. But a holding call was made by the referees against the Eagles, giving the Chiefs an extra chance to come in the lead and take a kneel to run the rest of the time out. According to CNN, the announcers, including the Eagles sideline, were in disbelief. Many say that this call didn't have to be made since it wasn't an obvious hold.
Many fans only went to watch the halftime show, which was performed by Rihanna. In a pregame interview, Rihanna stated that she hasn't performed in seven years, so if anyone wanted to see her in person, this was the time to go. According to The Athletic, Rihanna performed parts of her 12 most popular songs, with songs like "Umbrella" and "Wild Thoughts." Rihanna was wearing a very tight red outfit that showed off her baby bump. Viewers were very surprised to see that she was pregnant with her second child. That didn't stop her; she performed all the way through, making it a great show.
This entire night was exciting, from both the Eagles and Chiefs playing catch up to the questionable calls made throughout the game. But in the end, the Chiefs came out on top. At the end of the game, Travis Kelce, the Chiefs' star tight end, stated that everyone doubted their ability to win, making their victory more important to them and their fans.