Father's Footsteps
Bronny James was predicted to be the pick 10 of the 2024 NBA draft.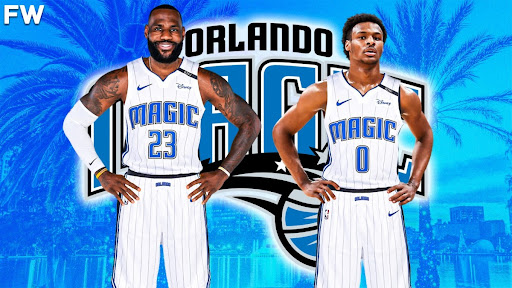 Bronny James is a well-known face on both social media and the basketball court. He is mostly known for being LeBron James's son. Bronny has had outstanding skill from a young age, which brought him to be popular. He is constantly shown on ESPN with his brother for their play highlights and outrageous dunks. B. James is following in his father's footsteps after recently being named McDonald's All American.
L. James has said many times that he would join B. James and play with him before he retires. According to WKYC Studios, L. James stated, "My last year will be played with my son." This seems to be L. James's new goal. He's already become the new all-time scoring leader, but that seems to not be his priority any longer. Now the real question is if L. James will try to play with his 15-year-old son Bryce before his career is over.
Currently a senior at Sierra Canyon School in Los Angeles, California, according to Hypebeast many college scouts have been looking into B. James. Some are saying that he may need to play a few more years of collegiate basketball before he is truly ready for the NBA. B. James has currently narrowed down his final three options of where he might play collegiate ball: the University of Southern California, Ohio State, and the University of Oregon.
B. James was recently projected to be the top 10 pick of the 2024 draft. B. James was the number 10 pick on the Orlando Magic. Many are wondering if L. James will be making a move from the Los Angeles Lakers where he's spent most of his career. However, a lot can change in a year. B. James could either still be playing college ball or playing alongside his father.
The son of the preeminent Lebron James has had many recent accomplishments. He is currently playing in the McDonald's All American Game with many huge faces. By B. James expanding his game has led to him having many more options opening up; from playing in the NBA G League, Overtime Elite, or playing at a top school in college, B. James has shown that he can excel anywhere he goes; it won't be a surprise to see him playing alongside his famous father.