LeBron James, the New Dad of the NBA
LeBron James has recently been called the father of the game.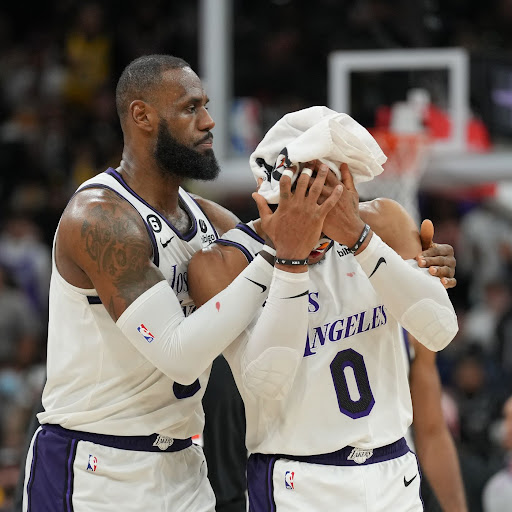 LeBron James is a very well known athlete. He mainly plays the positions of small forward and power forward for the Los Angeles Lakers. James is well-known for his extraordinary plays throughout the years and his status as a four-time National Basketball League champion and MVP. He is also very active and popular online, which is where he grows his fandom. Now, his actions on the court have led to him being deemed the paternal figure of the NBA.
LeBron is notable for his leadership through the years. Recently, during the game on Nov. 26 against the San Antonio Spurs, Russell Westbrook started bleeding from his head when a player from the Spurs elbowed him. Many noticed a new attribute to LeBron's game. According to CBS NBA, LeBron James was restraining Westbrook. He was making sure he wasn't in pain, while holding towels to his head. LeBron didn't even let the coaches or trainers take Westbrook off the court; he did that himself.
From these actions, many say his fatherly instincts kicked into play. According to ESPN, James was protecting Westbrook, earning the endearment of the rest of the Lakers. During the game, James himself had multiple falls, which led to his younger teammates making sure he was okay. As they did so, though, two players slipped and almost got themselves injured. They were making sure he wasn't hurt before taking care of themselves.
James is a huge role model for basketball fans, especially teenagers. He is an amazing athlete that many want to be like. This goes to show that even many grownups idolize him. He seems to be his teammates' first interest when he needs help in the same way that he prioritizes them. Lebron James is the role model and father figure of the NBA.