Chasing Greatness: Rewriting Records at the 2023 FINA World Championships
The highly anticipated 2023 FINA World Championships have captured the attention of swimming enthusiasts worldwide, as elite athletes prepare to push the boundaries and shatter existing records.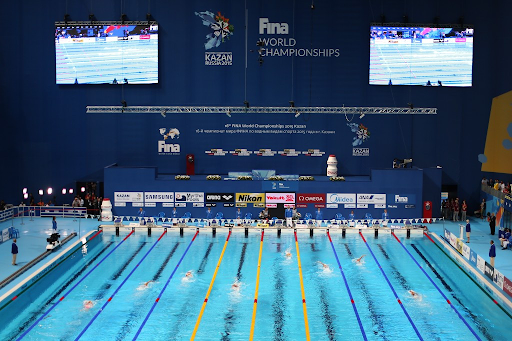 The countdown has begun for the much-awaited 2023 FINA World Championships hosted in Fukuoka, an event that promises thrilling competitions and remarkable displays of athletic prowess. As swimmers from around the globe gather to showcase their skills and claim victory, another captivating aspect looms in the background – the possibility of witnessing world records crumble. The stage is set for the breaking of long-standing records, adding an extra layer of excitement to the already intense atmosphere.
Women's 400 Meter Freestyle
The women's 400 meter freestyle event at the upcoming World Championships this summer promises to be highly competitive. The primary contenders vying for victory are Summer McIntosh, Katie Ledecky, and Ariarne Titmus. Ledecky held the world record in this event for over five years, clocking in at an impressive time of 3:56.46 at the 2016 Rio Olympic Games. In May 2022, Titmus surpassed Ledecky's record by a mere 0.06 seconds, reigning as the world record holder for nearly a year. Adding to the excitement, just a few months ago on March 28, 16-year-old Canadian swimmer Summer McIntosh shattered that world record with a 3:56.08. McIntosh's continuous improvement suggests she may surpass her own record once again. Meanwhile, Ledecky showcased her exceptional form with a time of 3:58.84 at the recent 2023 Atlanta Classic, one of her fastest non-international level performances. However, Titmus is undoubtedly motivated to reclaim her world record. All in all, this race promises to be a captivating and thrilling race for the audience.
Women's 100 Meter Butterfly
The world record for the women's 100 meter butterfly, currently held by Sweden's Sara Sjoestrom for approximately six and a half years, is expected to be broken due to the strong competition in this event. Sjoestrom herself no longer competes in the 100 meter butterfly, which opens up opportunities for contenders like Torri Huske, Maggie MacNeil, Kate Douglass, and others to establish a new record. MacNeil, the winner of the 2020 Tokyo Olympic Games in this event, and Huske, who recently triumphed at the 2022 World Championships in the event, are particularly noteworthy. Douglass, who claimed victory at the NCAA's in this event, displayed impressive form with a time of 57.19 at the Atlantic Classic a few days ago. The current world record stands at 55.48, and several contenders are within tenths of this time. With such intense competition, this race is poised to be a thrilling and captivating event to watch.
Women's 200 Meter Backstroke
The 200 backstroke event, while not as fiercely competitive, promises an intriguing rivalry. Reagan Smith, who recently transferred to Arizona State University, held the world record in this event for nearly four years. She achieved this feat at the 2019 World Championships with a time of 2:03.35. However, Kaylee Mckeown from Australia shattered the world record on March 10, swimming a remarkable 2:03.14. What makes this race particularly captivating is that Smith has embarked on a fresh chapter in her career. Just a couple of weeks ago, at the TYR Pro Swim Series, she set a U.S. Open record with an outstanding time of 2:04.76. Notably, she led the first 100 under world record pace, demonstrating her exceptional performance in the event. Under the guidance of renowned coach Bob Bowman (best known for coaching Michael Phelps), Smith has been experiencing a resurgence in her prime. The question lingers whether she can reclaim her world record.
Men's 200 Meter Butterfly
The men's 200 butterfly event lacks significant competition, but there is anticipation for the world record to be broken, courtesy of Hungary's Kristof Milak. Milak currently holds a position of absolute dominance in this event, being the reigning world record holder with a time of 1:50.34. He has consistently achieved top times in this event, sharing the list with swimming legend Michael Phelps. In 2019, Milak surpassed Phelps' record and has held onto it ever since. Last summer, he even re-broke his own world record at the World Championships, further fueling expectations for another record-breaking performance this year. The swimming community holds high hopes for Milak to become the first man to break the barrier of 1:50, a significant milestone in the sport. To date, no one has come close to achieving this feat, and if Milak succeeds, he may remain unrivaled for a considerable period. Consequently, this race promises to be a captivating spectacle for swimming enthusiasts.
Men's 400 Meter IM
This highly anticipated event is poised to captivate spectators as the longstanding world record, held by Phelps for nearly 15 years, is expected to be broken this summer. Leon Marchand, a remarkable French swimmer, stands out in this event. While there are other swimmers like Carson Foster or Chase Kalisz who may come close to his performance, realistically, Marchand is the frontrunner to break the world record. Last summer, at the World Championships, he achieved the second-fastest time in history, clocking in at an impressive 4:04.18, just shy of the current world record of 4:03.84. Furthermore, Marchand recently secured a victory in the NCAA's in this event, surpassing his competitors by a significant margin. His remarkable dominance across all aspects of swimming makes the prospect of witnessing him shatter the longest-standing world record in the sport truly intriguing.
As the anticipation builds for the 2023 FINA World Championships in Fukuoka, swimming enthusiasts and spectators alike are eagerly awaiting the opportunity to witness the breaking of long-standing world records. With each event showcasing remarkable talent and fierce competition, the stage is set for history to be made. With these exceptional athletes on the verge of rewriting swimming history, the 2023 FINA World Championships will undoubtedly provide unforgettable moments for fans worldwide.