Why Fancy it Up?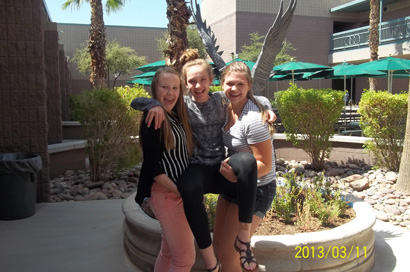 Student athletes at Horizon Honors are required to dress up on game days as a display of team spirit and school pride. Horizon Honors is a part of the Arizona Interscholastic Association (AIA) and we take the "honors" in our title very seriously. Students live and work up to our name, Horizon Honors. Our athletes have a lot of pressure, as they represent our school. When our players walk through the doors of another campus or even through our doors, they want to be role models.
Several students say that they enjoy dressing up because it boosts team morale. They also enjoy the attention of having multiple people ask them about their games. They love being asked, "Do you have a game today? Is it home or away?" JV sophomore volleyball player, Michelle Ogle says, " I like dressing up because it makes me feel and look professional… It makes me feel pumped and motivated, in a ready, set, go mood." Varsity volleyball sophomore player, Joli Sadler, is a new student at Horizon Honors and thinks dressing up and being on the team has allowed them to unite as one big family.
The reasoning behind students dressing up is not only to represent Horizon Honors well, but also to make the team feel more united. High school volleyball players Sadler, Ogle and Emma Martin all agree that dressing up on game days makes them feel happy and a part of something bigger.