Mission Accomplished Against Maricopa
Horizon Honors continue through their season with a game against Maricopa High School.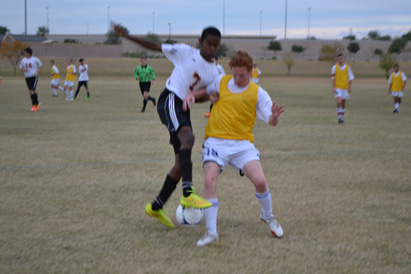 On Thursday, Dec. 13, the boys Varsity Soccer team played against Maricopa High School at 4 p.m. at Pecos Park. The game was fun to watch and fortunately didn't end in Maricopa's favor.
The first half started out a bit slow, although there were some impressive plays made by freshman Ben Bongard and speedy junior Joseph Holguin. Although neither team scored any points, the intensity was still visible and the boys were not giving up yet. The first half ended with a score of 0-0.
Throughout the second half, Horizon Honors' defense remained solid and senior Tony Salatino did a notable job at keeping the other team from scoring from his side of the field. On the sideline, he describes his thoughts on the second half, "I think we're doing very well because everyone's playing their positions correctly and connecting with the other players as well." Salatino seemed to be correct in his statement as senior Zach Baker followed this interview with the team's first goal.
Special recognition goes out to Baker for making this goal; not only was it scored from a free kick over 35 feet away, but it was also the first goal of his high school career he's made.
Unfortunately in the second half, Horizon Honors' goalie, freshman Cody Stewart, was injured and escorted off the court. Sophomore Spencer Brown was put in to replace the position, and with the support and encouragement of his team members, did a great job stopping several attempts from the other team to score. The second half ended in an Eagles victory, 1-0.
Salatino said one thing he knows all of the boys are looking forward to in the season is building chemistry with each other on and off the pitch, and with tough but fierce games like this one, I'm sure they will be able to do just that.