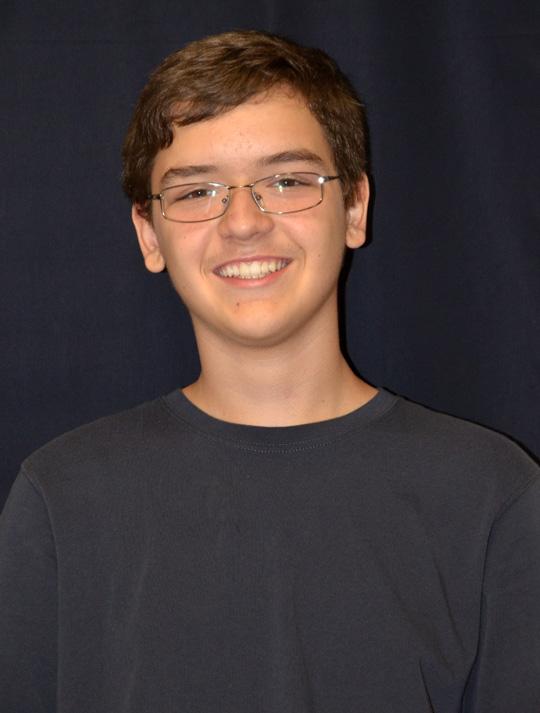 Connor Lowe, an eighth grader, has just entered his first year at Horizon Community Learning Center. He entered Journalism because of his passion and talent for writing, and
maybe
a tiny bit because he really wants to be famous. He is an avid reader and PC gamer with a preference for fantasy RPGs, but never figured out how to use any console that isn't a Wii.
His fascination with sci-fi/fantasy began when he was about five or six years old, when he'd sit next to his father and watch him play 
The Elder Scrolls IV: Oblivion
, and really sparked when he was given his very own copy of 
Baldur's Gate II 
to play. Now he enjoys creative writing, and particularly loves to think about the 
Dungeons & Dragons 
game that he plans to run with his father and his brother. Connor is a black belt in Tae Kwon Do and plans to go into journalism or novel writing as an adult. He is a huge narcissist and is delighted that he can finally write about himself in the third person without sounding pompous or insane.
Connor Lowe, Columnist
Jun 05, 2015

Comics, Costumes, and Celebration at Comicon Phoenix

(Story)

May 11, 2015

New Dress Code, New Feelings

(Story)

Apr 30, 2015

Behind the Curtain of "The Pajama Game"

(Story)

Apr 14, 2015

From Jamestown To Phoenix And Back Again

(Story)

Mar 01, 2015

Valley Volunteer Opportunities Abound

(Story)

Feb 24, 2015

Anonymous Hacktivism

(Story)

Feb 01, 2015

"The Imitation Game" Is Anything But An Imitation

(Story)

Dec 19, 2014

Tragedy In Pennsylvania

(Story)

Dec 09, 2014

Girls' JV Basketball Stays Strong Through Loss

(Story)

Nov 23, 2014

Athlete Spotlight: Joseph Holguin

(Story)

Nov 06, 2014
Oct 31, 2014

Brown Sugar Fudge

(Story)

Oct 27, 2014

The Not-So-Common Cold

(Story)

Oct 01, 2014

Wait! There's Two of You!

(Story)

Sep 22, 2014

Are Sports Irrelevant?

(Story)

Sep 14, 2014

Make Way for the Rain Day

(Story)

Sep 07, 2014

Video Games and You

(Story)