Behind the Curtain of "The Pajama Game"
This spring, Horizon Honors is performing "The Pajama Game," a 1950s-era love story set to the background of a labor strike over seven-and-a-half cents. I'm here to take you backstage.
You may have seen the advertisements around school for our spring production, "The Pajama Game." "Fall in love this April!" they cry. "Buy tickets now!"
And for good reason. "The Pajama Game" is a fantastic show. Even after sitting through weeks of rehearsal, I don't think I'll ever get tired of the music and the story. As someone who's participating in a Horizon Honors production for the first time, I'll be able to offer some useful insights for people who are thinking of joining.
First-timers may want to join as tech crew – that's what I did. It's a good opportunity to get a feel for how the cast operates, while still participating in the production process. Plus, you don't have to audition in person. What would the auditions even be like for tech? "How much do you lift?" I lift enough. No, thanks. All you need to do is write an essay, and for tech, that's infinitely preferable to actually talking to people.
After I signed up, I attended a meeting in Miss Shaheen's room with the other 49 members, where I received a folder containing the script and some important papers with props, dates, and such. We read through the whole script and talked a bit.
There ended my involvement with the play for a long time. Tech really doesn't have much to do in the beginning of the show: it's all actors. They rehearse over and over again with the Shaheens until they hear the songs playing in their dreams. Tech joins in a few months, where they get to watch the rehearsals for a week and really start to get a feel for it, and then they're thrown into the chaos of Tech Week.
Tech Week is usually a horrible time for actors. They have to stop, start, and restart so many times that by the end, most of them want nothing more to do with the show. But for the tech crew, it's the time when you finally get to do something. I learned to control the stage lights while sitting in the back booth of the MPR. It's a really fun job, and it comes with the added satisfaction of finally being useful in the play.
Tech Week is crunch time. The following week, dress rehearsals begin and then performances the end of that same week. At the end of Tech Week, that Saturday, everyone in the cast and crew helped to put up the set. The sets always look amazing. They're compact, multipurpose, and masterfully painted. After covering the walls and backstage in black drapes and placing the major set pieces, the stage is ready to go.
On the following Monday, dress rehearsals begin. Everyone except the people on lights and sound dress up for their parts. Most major actors have multiple costumes, even as many as five or six, which they have to quickly change into between scenes. Small and large ensemble have fewer, and stage crew only has one, but all are context and period appropriate. It has to be said, the costumes add a lot to the show. You really start to think that it might be real after seeing the actors in costume and makeup.
The last rehearsal we have is Parent Picture rehearsal. It's a free performance for the parents under the guise of a chance to take pictures and record their kids up onstage. It's their only chance to capture the performance. Afterward, they pose with the actors and crew for pictures, including, naturally, pictures of the whole cast.
The day after Parent Picture (Friday, April 24 in this case) is opening night. The actors were called in three hours early to set up and warm up. As stage lights, I have to set up my lightboard (plug it in and turn it on) and the footlights (plug in the receiver so my lightboard can communicate with it). My other, less-mentioned job is the prestigious position of pre-show concession sales. So, after I set up my lights, I go into the kitchen and help set up the Sleep Tite Cafe. We set out the candy and cool the drinks in big buckets of ice to prepare them to be sold while the actors warm up in the chorus room. Then, at 7 p.m., the doors open and a terrifying horde of excited parents and hyperactive children swarms in. We concession sales kids are swamped with orders. It's terrifying, but fun at the same time.
At 7:30 p.m. on opening night, the lights dimmed. Eighth grader Alexis Scott, who was working the cafe with me, ran back to her spot in the booth, and I followed suit. There's a certain kind of energy that fills you before a performance. I'm told it's stronger for the actors, but I was definitely feeling it while passing out candy (everything's a dollar, just saying). When the music came on, I was dancing in the booth to the Overture.
As the show started, and the lights went off, the audience hushed and everyone felt a mounting sense of excitement… But that's all I can tell you. I'm afraid you're going to have to see the show if you want more details. I can't very well spoil the whole show for you, can I?
The next performances are on Friday, May 1, and Saturday, May 2, at 3:30 p.m. and 7:30 p.m. Go buy tickets! I'll see you at the concessions counter! (Buy candy! Try one of everything! You can't go wrong!)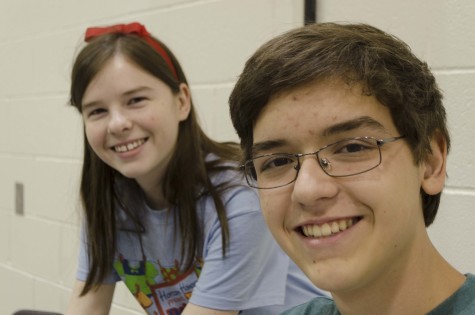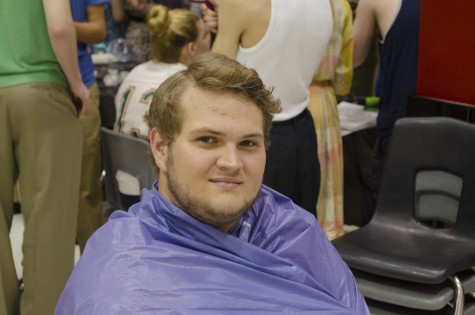 Leave a Comment
About the Writer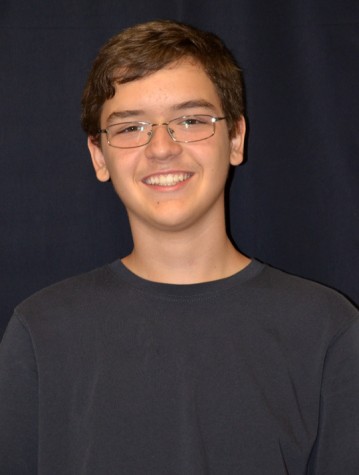 Connor Lowe, Columnist
Connor Lowe, an eighth grader, has just entered his first year at Horizon Community Learning Center. He entered Journalism because of his passion and talent for writing, and maybe a tiny bit because he really wants to be famous. He is an avid reader and PC gamer with a preference for fantasy RPGs, but never figured out how to use any console that isn't a Wii.

His fascination with sci-fi/fantasy began when he was about five or six years old, when he'd sit next to his father and watch him play The Elder Scrolls IV: Oblivion, and really sparked when he was given his very own copy of Baldur's Gate II to play. Now he enjoys creative writing, and particularly loves to think about the Dungeons & Dragons game that he plans to run with his father and his brother. Connor is a black belt in Tae Kwon Do and plans to go into journalism or novel writing as an adult. He is a huge narcissist and is delighted that he can finally write about himself in the third person without sounding pompous or insane.