Make Way for the Rain Day
Monday's thunderstorms caused a lot of noise in sunny Arizona.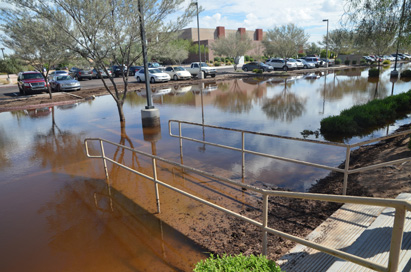 We all know how Mondays go. You wake up, drag yourself out of bed, shower and dress, all the while regretting the end of the weekend. Then, just as you are about to leave, the news reaches you… There's no school today!
Monday's monsoon –  the remains of Hurricane Norbert – caused mass chaos in central Arizona. Aside from closing schools and businesses, it completely swamped streets and stranded many motorists. In fact, the National Weather Service recorded 3.29 inches of rainfall at Sky Harbor Airport, smashing the record for one day of rainfall – 2.91 – set in 1933. Mayor Greg Stanton declared a state of emergency in order to get federal aid during rescue and cleanup operations.
Meanwhile, many people, including families and children, not grasping the danger that they were in, were driving around during the storm, eager to see the spectacle of the rain. Huge puddles filled the street, and cars sprayed water wherever they went. People crowded the city's drainage basins – many of them are parks when not flooded – and gaped at the level of water. Many of the basins were full, and drained into secondary basins, which were also full. Those secondary basins either drain into tertiary basins or just overflow, causing an even bigger mess. Cars hydroplaned while speeding home, eager to get out of the rain, and some skidded out of control, leading to at least two deaths.
With the threat of more rainfall still looming over us, many Phoenicians are apprehensively awaiting the future. While monsoons may be amazing to look at, please do this from the security of your home. Stay safe and stay dry.